Transfers
'We focus only on Chelsea' - Conte ignoring big Man Utd & City moves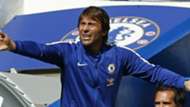 Chelsea manager Antonio Conte says that he is not concerned what other teams are doing in the transfer market – only how his side handle themselves.
The Blues put their opening day loss to Burnley behind them as they defeated Tottenham 2-1 on Sunday, yet there is a feeling that they still have to find top gear.
That has not been a problem for Manchester United, who have spent lavishly in the transfer window, while Manchester City also paid a great deal of money on a handful of stars.
Conte is not concerned that Chelsea have not matched them stride for stride, despite adding Alvaro Morata, Tiemoue Bakayoko and Antonio Rudiger to their ranks.
"For us, it's very important we only focus on ourselves," he said. "We know very well that a lot of teams improved if you compare with last season. But also, don't forget that this team was very strong last season.
"It's not important if we are not favourites in this league. It was the same last season. We know we are trying to improve our team, our squad, and the club is trying to do its best in the transfer market to try and improve the team and the squad.
"We have to continue to consider there are great difficulties in this season, but the only way we can get through these difficulties is to work."