World Cup
We don't have a Neymar, but Iceland not surprised by World Cup qualification – Magnusson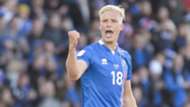 Hordur Magnusson says that no-one in the Iceland international side was surprised at their qualification to World Cup 2018.
The Euro 2016 quarter-finalists, who famously beat England en route, were placed in a group alongside Croatia, Ukraine and Turkey, yet came away top of the pool to secure a place in Russia next summer.
Although lacking in star quality, according to the 24-year-old defender, who turns out for Bristol City in England's Championship, the collective strength of the team has been a driving force in their success.
"Qualification is not really a surprise for us," he told Goal. "It's always been a goal for us, qualifying for a big tournament. When the Euros in France was expanded to 24 teams, it gave us extra motivation to go there. It was a dream for the Icelandic people to see their team at the Euros. 
"We shone there and afterwards fought for a place at World Cup 2018 knowing it was possible, that we could do it.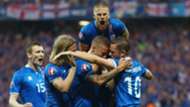 "There were several strong teams in our group. But there were two turning points for us: first, the win at home over Croatia [in which Magnusson scored the winner], then Croatia's defeat against Turkey. We regained our position of strength at the top of the group before the last two games and had our destiny in our hands.
"We don't have a Neymar or a Philippe Coutinho in our team, just players who work together with a strong sense of a collective. And it was that spirit that allowed us to beat England at the Euros and will carry us even further."
Magnusson's professional career took him to Italy at the age of 18, where he joined up with Juventus' youth side and he learned a great deal from the likes of Alessandro Del Piero, Andrea Pirlo and Gianluigi Buffon during his time in Turin, which was interrupted by loan spells at Spezia and Cesena.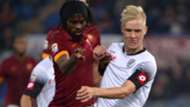 "When I started to play in Iceland, I was a midfielder," he explained. "And when I moved to Juve, the coaches there told me that I would be an equally good defender, so I dropped deeper on the field. I played in a three-man defence, like the first team. 
"I've always been a great fan of Italian football, more so English football. So when Juventus came for me, one of the biggest clubs in the world with an incredible history, I went there.
"I had a new country to discover, a new language to learn, but in the first year I was included in many first-team training sessions and that really helped. To play against legends helped me improve quickly. 
"I was defending against Del Piero! You learn a lot in those moments.
"I watched Pirlo a lot, especially on free kicks. He had a unique style. When I was young in Iceland, I tried to replicate his style and also that of Cristiano Ronaldo. In playing with Pirlo, I adopted his technique. 
"Buffon is an easy person to get on with, really good, really humble and never had any arrogance about him. He never hesitated to give you advice and he always thought of the team. 
"Look at the match against Sweden, when the crowd was booing their anthem, he applauded it. And at the end of the game, I was a little sad that he wouldn't play a sixth consecutive World Cup. He deserved to play in it."