Ligue 1
WATCH: 'Nice's playing style will attract the world's best' - Younes Belhanda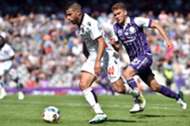 The comparison might seem far-fetched, but to those watching closely it's not. Passing, linking and creating, playing with an intricacy and a swagger, there's something about OGC Nice that looks a lot like Barcelona.
Building on last season's resurgence following a difficult period, the club from the south coast of France has made a charge at Ligue 1's heavyweights, pushing Paris Saint-Germain and AS Monaco in a three-way title fight while adopting an on-field identity resembling that of a certain behemoth from northeast Spain.
In line with the Catalans, Nice's style is based upon sharp passing sequences and fluid movement, earning them admiration both locally and globally.
"We want to dictate the game," midfielder Younes Belhanda told Goal. "We're not direct and we don't play long. We want to be on the ball, creating, ,moving the opponent, playing one-twos. That's what the manager wants and that's what you want as a player."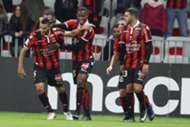 As Nice march toward the league's upper echelon, boosted by a 3-1 victory over PSG last week, Belhanda believes the club's playing style will attract great players from across Europe, as it did for him.
"I saw their style of play last season and they played well with the ball," the 27-year-old said of an approach that started taking shape last term.
"That's what we want as footballers: to be on the ball a lot, not being in a team that's always defending. Players will want to come here because they know the club plays great football. We also know that it's a club that has ambition and that's been demonstrated this year."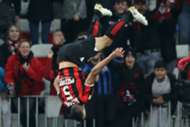 Key in developing the method has been manager Lucien Favre, whose commitment to the philosophy is absolute.
"Favre is a coach who wants his team to play," said Belhanda. "Before matches he tells us that we will win because of the process. He does not focus on winning, he focuses on playing our game, that's all. And we demonstrate that game after game."
A 3-1 toppling of PSG was Nice's latest demonstration, extending the club's unbeaten run in the league to 12 games.
With only three games remaining, a title looks unlikely. But another challenge will be mounted next season, when Nice could very likely be strutting their stuff in Europe and attracting another wave a talent with the lure of the UEFA Champions League.