Videos
VIDEO: Mangala shows Aguero how to do finish with brilliant overhead kick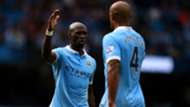 Eliaquim Mangala's may have fallen out of favour with Manchester City coach Pep Guardiola with regards a starting position in the centre of defence but, after a brilliant goal on the training ground, he may fancy his changes of featuring in attack.
Man City have released a video on their official Facebook page of the former Porto centre-back scoring an incredible goal during training.
A break down the left saw the ball crossed into the box, with the France international centre-back managing to adjust himself brilliantly to fire a left-footed bicycle kick into the goal from 10 yards out.
Check out the video above!