Olivier Giroud
VIDEO: Lloris ignores Giroud as he predicts exactly where David Silva penalty is going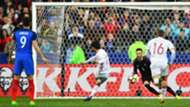 Never take advice from an Arsenal striker.
Video ref cancels out Griezmann goal
That may well be exactly what Tottenham goalkeeper Hugo Lloris was thinking when he dived the wrong way and failed to save David Silva's penalty on Tuesday night.
He probably should have paid attention to Olivier Giroud on this occasion, though, with the Gunners forward correctly predicting where the Manchester City star would place his spot-kick for Spain.
SPURS keeper Lloris should have listened to ARSENAL striker Giroud for the penalty! pic.twitter.com/lwoGCW4XDY

— ITV Football (@itvfootball) March 28, 2017
As evidenced by the above clip, Giroud actually points to the side that Silva would go to convert his penalty, with Lloris, who, in fairness, probably wasn't looking at his team-mate's hand at the time, haplessly diving the other way.
Spain would go on to win Tuesday's glamour friendly at the Stade de France 2-0, with Gerard Deulofeu wrapping up the victory in the second half to add to Silva's opener.