Powerade
VIDEO: I was so happy to be there - Javier Hernandez's Real Madrid evolution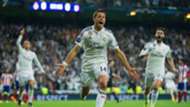 Javier Hernandez's loan move to Real Madrid from Manchester United in the summer of 2014 didn't pan out in the way he might have hoped it would.
Used rather sparingly by then-manager Carlo Ancelotti, Chicharito made just 10 starts in all competitions in the Spanish capital - but hit a brilliant nine goals. 
The lack of game time would have no doubt been a source of frustration, but the Mexico star understood the situation he was walking into and insists he was grateful for the chance to play for arguably the biggest club in the world.
"When I went to Real Madrid, rather than feeling more prepared than any other player, I arrived with the possibility of competing for a position," Hernandez said. 
"I went as the one who could be in the starting XI or being a substitute and do the best I could. I have felt this way in any part of the world, and I have seen it that way. 
"I swear to you, and I promise you that I did not feel any pressure, on the contrary, pure motivation, real responsibility, pure illusion, genuine happiness and a lot of gratitude to be there."
Though his time on the pitch was limited, Chicharito did manage to provide a lasting memory for Madrid fans with a late winner against local rivals Atletico in the second leg of the Champions League quarter-final. 
And his typical, close-range strike represented more than just a victory to Hernandez.
"When I scored that night what I felt was the answer to what I had been doing during that year. The reward to all the work, all the training," he said.
"Our record and results [against Atleti] were a little negative in those days, so to beat them 1-0 at home and progress [to the semi-final of the Champions League] for me and the fans was something incredible."