Louis van Gaal
'Van Gaal is completely crazy!' - Demichelis recalls working with former Man Utd & Bayern boss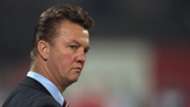 Former Manchester United manager Louis Van Gaal is a difficult man to work with, according to one-time Argentina defender Martin Demichelis.
The 67-year-old coach was in charge of Bayern Munich between 2009 and 2011, managing to guide the club to a domestic double and a Champions League final during his first year.
Demichelis was part of that squad and he looks back on that season fondly, describing Van Gaal as a "great manager", however, he also admits that the two men failed to see eye to eye on more than one occasion.
"If I tell you about a great manager, but one who is completely crazy: Van Gaal. He goes a bit too far sometimes," the retired centre-back told La Nacion.
"In one game we were winning 3-0 at half-time and he came into the dressing room kicking the door, the kitbags and shouting that everything had been a disaster.
"As captain, I had to calm him down: 'Stop insulting us, have some respect.' I played badly in the second half and the following day he told me that I had performed badly because I had emotionally unbalanced myself."
Demichelis played for Manchester City between 2013 and 2016, picking up a Premier League winners' medal and earned 51 caps at international level with Argentina over the course of his career.
The 37-year-old Argentine has extensive experience playing at the highest level but he was challenged most during his time at Bayern under Van Gaal, as he went on to describe another shocking incident involving the ever-controversial tactician.
"If you were out for three weeks with a strain, you needed another three weeks of training to be able to play again," Demichelis added. "That's what he thought. I had an ankle operation, I made my comeback for Argentina but Van Gaal wouldn't play me.
"One day, in a game for the starters against the substitutes, with him as referee, the goalkeeper gave me the ball and I smashed the ball in his direction, aiming at his face. 
"It missed him by inches. There was a deafening silence and he said: 'I ask you all that no one else gives the ball to Demichelis.' We later ended up arguing in the dressing room."
Van Gaal has been out of work since leaving Old Trafford in 2016, having guided the club to an FA Cup win and a solitary fourth-place finish during his two-year stay.
The Dutchman has also enjoyed successful stints at Ajax, Barcelona and AZ Alkmaar while serving as Holland's head coach on two separate occasions.