England v United States
USMNT keeper Guzan reveals what he said to Rooney after preventing final England goal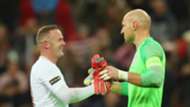 U.S. national team goalkeeper Brad Guzan has revealed what he said to Wayne Rooney after preventing the forward from scoring on his last England appearance.
Rooney bowed out from international football after making his 120th and final appearance as the Three Lions defeated the USMNT 3-0 at Wembley on Thursday.
Jesse Lingard, Trent Alexander-Arnold and Callum Wilson all scored for England, but Rooney was denied a goal and a perfect send-off by Guzan and his USMNT team-mates.
And Atlanta United shot-stopper Guzan has said he and Rooney - now playing in MLS with D.C. United - exchanged a few words on the pitch and in the tunnel after the match.
Guzan, who saved a Rooney shot in stoppage time, revealed: "I just said, 'Congratulations, you've had a fantastic career'.
"We shared some words in the tunnel afterwards. It's been a good move for him going to America.
"He's settled, his family really enjoy it, so I was pleased to be able to see him get back to playing with a smile on his face and enjoying his football."
Rooney was also given a commemorative USMNT shirt with 120 on the back of it in the away dressing room, with Guzan continuing on the gesture: "He was appreciative.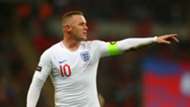 "He talked about moving over from England, enjoying his time over there, coming into our league. He was appreciative of that, appreciative of the gesture, and ultimately us coming here.
Guzan is a familiar face on English shores after playing for Aston Villa between 2008 and 2016.
The 34-year-old also had a loan spell with Hull City in 2011 and a one-season stint at Middlesbrough in 2016-17 before returning to his homeland by joining Atlanta in 2017.
Guzan says he and his team-mates could see it was obvious that England were desperate to help Rooney score on the night, hence he was given special attention.
"I was saying to our defenders that obviously they were trying to get him to score, so we had to get close to him," Guzan added.
"It was as clear as day that they wanted him to score, so I said that to one of our centre-backs and he turned around and said, 'I know they're trying'.
"It's a special night for him and his family. Full credit to the English FA for putting on a night like this for him.
"Listen, you're not thinking about things like that [spoiling Rooney's night], you're just trying to keep the score as low as possible.
"You laugh and joke about it afterwards but in the midst of the game you're not really thinking about it. You're just trying to keep the ball out."