Opinion
Academy View: When Football Meets Education – An Academic Revolution in Liberia
William H. Smith (Co-Founder & Executive Director) and Musa. P Sheriff (Director of Academics)
Monrovia Football Academy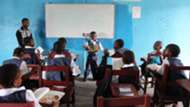 ---
ACADEMY VIEW:    MONROVIA FOOTBALL ACADEMY        Follow on Twitter
---
Monrovia Football Academy is operating amidst Liberia's highly ambitious and controversial education reform. Seven private providers of education have partnered with the Ministry of Education to revamp the failing education system and raise Liberia's general academic standard.
We have been asked on two separate occasions to join the Partnership Schools for Liberia public-private partnership. Both times we have politely declined.
Our approach is vastly different from the private providers of education engaged in Partnership Schools. We do not aim to provide basic education for thousands of Liberians. We are addressing the quality of education, not ticking the quantity checklist.
Our goal is to be a flagship school in Liberia with a unique brand. We provide a set of programs – high-quality education, professional football training, good nutrition, healthcare, life skills – that transforms the lives of Liberia's most talented boys and girls and gives them the skills they need to become leaders in Liberian society.
The successful development of Liberia will require a set of citizens with the education, leadership skills, and integrity needed to lead positive change.
At Monrovia Football Academy, we tap into young Liberians' passion and energy for football and transfer that into the classroom.
Our academic program is unique. We use a refined version of the Ministry of Education's curriculum for our four core courses, and we add two classes per week on Leadership, Health Science, and Music. Each one of our teachers has a bachelor's degree, our pupil-teacher ratio is 12:1, and we are one of the only schools in Liberia with more teachers (four) than grades (three), allowing us to create personalized lesson plans for struggling students.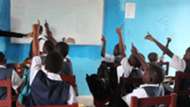 "We have never seen anything like this – bringing education together with football. In the past, we always had to choose one or the other. Good student, no football. Good footballer, no studies. Bringing them together is just beautiful." – Monrovia Football Academy parent, Patrick Sumo 
The Academy's key innovation, however, is the combination of high-quality education, professional football development, and leadership training. We bring them into conversation in many ways. Here are a few:
"Student of the Day": Each day, our teachers select the 'student of the day' for each academic grade. At the next football training session, the 'students of the day' choose the football activity their team does for the last ten minutes of training. Students compete in the classroom to choose their favorite activity.
Football in the classroom: Our teachers incorporate football-themed examples and lessons into our academic curriculum.
Students who misbehave and perform poorly lose football privileges.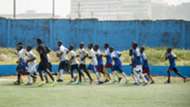 Every country needs prestigious education providers, those special institutions that break down barriers and redefine the definition of what is possible.
We believe Monrovia Football Academy will be that institution in Liberia.
Join us again next month, when our female staff members team up to describe how the Academy aims to break down Liberia's pervasive gender inequality.
See you then!
Instagram: @monroviafootballacademy
Facebook: monroviafootballacademy
Twitter: @MonroviaFA