KPL
Ulinzi Stars defender hopeful of victory against Al Hilal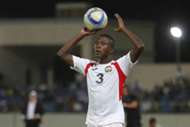 After going down by a solitary goal against Libyan side Al Hilal Benghazi in their first leg meeting of Caf Confederation Cup played in Egypt last Friday, Ulinzi Stars defender Omar Mbongi has revealed the team is targeting early goals in the second leg.
A 2-0 win will see the Soldiers qualify to the next round of the competition at the expense of the Libyan side and Mbongi believes it is a possible target to attain.
Ulinzi Stars blame officiating for Al Hilal defeat
"A two-goal win for us will do, that is what we need in order to progress to the next round. Early goals will work for us.
"I was not impressed with the way they deliberately wasted time. They (Al Hilal) fell down at will and you could find upto four players down at ago. It was a tactic which they used to frustrate us but we are hopeful of turning the tables in the return leg," he told Goal.
The match is set to be played in Nairobi after two weeks.