African Nations Championship
Ugandan coach vows to stop Namibia in Chan match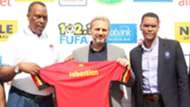 Ugandan coach Sebastien Desabre has rallied his troops to get a win against Namibia in their second match of Chan 2018.
The Cranes started the tournament on a wrong footing after going down 3-1 to Zambia in the opening match and the French coach is now demanding for a quick response when they take on Namibia, who beat Ivory Coast 1-0.
"We are in need of victory and that is what we are going for against Namibia. We had a very descent match against Zambia but we lost concentration and conceded easy goals. I was disappointed with the result because we played very well in the first half but go nothing out of it."
Desabre added, "It was an open game and Zambia played fast attacking game and my team controlled. The second half was difficult for my players physically in the opening 25 minutes.
"Then we conceded and the third goal was as a result of a mistake by our goalkeeper (Benjamin Ochan). We showed quality and good organization."
The coach also revealed that his side must improve on the physical aspect of their play if they are to survive in the tournament.
"We have two more games left and I will try to improve the physical aspect of our play. It was my first competitive match with the players since taking charge and I am also working hard to learn all of them."