U17 World Cup
U17 World Cup: Mario Arteaga thanks Kolkata for incredible support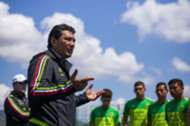 Mexico coach Mario Arteaga was overwhelmed with the support of Kolkata fans after their narrow defeat at the hands of England in their second match in the FIFA U-17 World Cup on Wednesday.
The entire stadium cheered for the Mexican colts as they almost came back from a 3-0 deficit. They eventually lost 3-2.
Arteaga conveyed his gratitude towards the fans as he started the post press conference. "Greeting to Kolkata for the support. It was an emotional journey for us from 3-0 down to almost staging a comeback. Many thanks to Kolkata crowd," said the coach.
On asked whether the penalty decision was a controversial call, the Mexican coach refused to comment. He said, "I won't speak about whether it was a penalty or not. I am not the right authority."
Mexico started playing with vigour only after 60 minutes when they were 0-3 down. Arteaga complimented his players for showing great spirit at the end. "We were late to react. We conceded three goals. I want to say that the team was always fighting and showed great spirit. That is exactly how we play "
On opponents England, he opined, "England are a great team. They have great capacity and are a complete team with great squad balance. Jadon Sancho is an outstanding player."
Arteaga ended the interaction by thanking the Kolkata fans once again. They travel to Guwahati to play their third match of the group. The gaffer also expressed his wish to be back in the city again and play the final.
Next up was Steve Cooper who was understandably happy. England progressed to the round of 16 after today's win. Speaking of the match Cooper said, "We were up 3-0 within an hour against a strong Mexico side. After going up we missed some chances. That happens. But I am happy that we didn't crumble and give away the lead. The boys will learn from this experience."
Next, they face Iraq on Saturday in their third match. The gaffer was asked about his thoughts on the Iraqi side to which he replied, "Iraq are a good team. We are in a tough group with a variety of quality. It is difficult to get a point against Iraq. We will work hard and try and get our plans right. We will not underestimate Iraq."