U17 World Cup
U17 World Cup: Bhaichung Bhutia blasts AIFF for lack of Indian coaches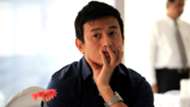 Former India international Bhaichung Bhutia has criticised the All India Football Federation (AIFF) for not including Indian coaches in the support staff for the India U17 team that participated in the FIFA U17 World Cup underway in the country currently. 
Bhutia was voicing his opinions on live television after the Indian team's 4-0 loss to Ghana in their final group game. 
The only Indian coach in Luis Norton de Matos' support staff is goalkeeping coach Mario Aguilar and Bhutia says the federation should have heeded his suggestion of increasing the number of local coaches working with the team.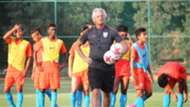 "One criticism that I have is that the AIFF should have had more Indian coaches working under Luis Norton de Matos. We've just got one goalkeeping coach in the staff. It is not enough.
"I've been very vocal with the management and the federation that we need more (Indian) assistant coaches involved," he argued. 
Bhutia stressed that it would have led to some continuity when the time came for the Portuguese to step down. 
"World Cup is obviously an important event so we should have had one or two more (Indian) coaches involved. If they had worked with the team for 2-3 years and under Norton de Matos, it would have been great for the country. 
"One day when he (Norton de Matos) leaves, we would have had Indian coaches to take over and guide the players. But we have only one coach and that too a goalkeeping coach."