PSG
Trapp drinks 8 coffees a day and Marquinhos is the best dancer - Marco Verratti's PSG team-mates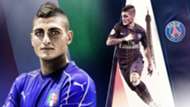 ---
EXCLUSIVE
---
Dear fans, dear football lovers, 
 
This month I wanted to do something different. We often talk about myself in this column, so let's talk about my teammates this time. They are my buddies, with whom I spend most of my time, so I thought it important to provide a few words for each of them.
Like Marco Verratti on Facebook
---
KEVIN TRAPP
---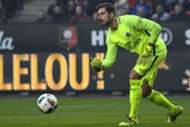 Kevin is a very intelligent boy, very simple, and that's what surprised me at the beginning. He learned French really quickly, and he also speaks English, Portuguese and a little Italian. He made a lot of sacrifices to get to PSG, but he works very hard and deserves everything he gets. He is very, very strong. Alongside football, he really likes coffee. He bought himself a professional coffee-maker like you see in bars and hotels and he can drink eight or nine in a single day. Along with Alphonse Areola, we are lucky to have two great goalkeepers.
---
ALPHONSE AREOLA
---
I have known Alphonse since my first year here at PSG and I followed him at Villarreal before he came back this season. He was very happy to return here and try to compete for his position. We have two superb goalkeepers in the group and Alphonse has his chance. The club believes a lot in him. He's very impressive in training –  I have trouble scoring goals against him.
---
THOMAS MEUNIER
---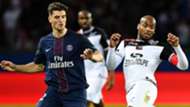 Thomas has been surprise to us. We did not know much about him before he signed with PSG but he is a very technically gifted player. We have to appreciate the good work of the club scouts who brought him in. He has made some great goals for us this year, but he told me that was not unusual as when he was young he played a forward. For fun, I like to tell him that he runs like a horse because he has a great stride. He is honest, that's just who he is, he always speaks his mind.
---
SERGE AURIER
---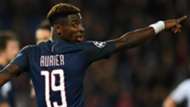 He is the one who ensures there is a great atmosphere in the dressing room. Serge has been criticised because of what he has done off the pitch but those people do not really know him. He should only consider the opinions of people he knows, not those who write from behind a computer. He made mistakes, but he is far from being a bad guy. We know that he is very attached to Paris and to PSG and we are all great friends of his. On the pitch, his biggest quality is physical power. He just never tires.
---
THIAGO SILVA
---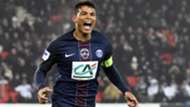 The captain! O Monstro! He is SO impressive. He is one of the two best in the world, with Sergio Ramos. I could have added Giorgio Chiellini and Leonardo Bonucci but they need each other while Thiago Silva can be just as strong with anyone. He's a true captain who talks a lot in the dressing room.
---
MARQUINHOS
---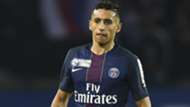 'Marqui' really takes advantage of the chance to play with Thiago Silva. He's been lucky to grow up alongside a player like that. Now he has to think about himself in order to become one of the best. He has played a lot this year and is gaining experience all the time. He has many years ahead of him in Paris. I have a very good relationship with him because he is an excellent dancer!