Transfers
Tottenham told to consider Alderweireld sale amid Man Utd interest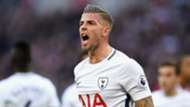 Tottenham have been advised to consider parting with Manchester United target Toby Alderweireld, with Jermaine Jenas of the opinion that Davinson Sanchez is a more than capable replacement.
The Belgium international has become caught up in a transfer storm ahead of the summer window, with a 2019 release clause in his contract proving to be problematic.
Spurs had been hoping to agree fresh terms with the 29-year-old, remove a £25 million breaker and tie a proven performer down in north London for the foreseeable future.
Failure to reach an agreement means Alderweireld continues to be linked with moves elsewhere, with talk of a switch to Old Trafford having been bubbling away for some time, and Jenas believes now may be the time to cash in.
The former Spurs midfielder told Yahoo Sport: "I love Toby, he is a phenomenal player and Tottenham are better when he is in the team, but he is approaching his 30th birthday and I know how Daniel Levy operates at Spurs when a player gets towards that age. The wage demands, what they can afford and where they need to prioritise and maybe Alderweireld doesn't fit into that structure.
"Also, when I said that Spurs had to do everything they could to hang on to Alderweireld, I was not thinking Davinson Sanchez would have had as good as season as he has just had.
"That Spurs defence looked pretty solid for most of the campaign and Sanchez was a key part of that, so the club may look at how much it would cost to keep Alderweireld and believe they have a better value for money option in Sanchez. In many respects, I probably agree with that.
"I would love Toby to stay because I believe he is the best defender in the world when he is right at it, but we will see where it goes from here. I'm sure there will be plenty of big clubs trying to sign him, with Manchester United believed to be among those."
While the exit door may be opened for Alderweireld this summer, Spurs are determined to retain the services of head coach Mauricio Pochettino.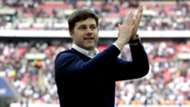 They have been able to extend his deal through to 2023, but have also seen the Argentine heavily linked with a vacant managerial post at Real Madrid.
Jenas does not expect a man who has already sought to distance himself from that position to head to Spain in 2018, but concedes that a move may be made at some point in the future.
The ex-England international added: "The Real Madrid job is always likely to be the one that takes Mauricio away from Spurs, but I'm not sure this is the right moment for him.
"There is no rush. He has the ability to go on and achieve something historic with this Tottenham side and that must appeal to him.
"Two or three years down the line, he might feel as if there is nowhere else for him to go with Tottenham and then he can look to go to Real Madrid or the other big clubs and have a real go at winning the Champions League and major trophies.
"The new stadium looks amazing, they are back in the Champions League, he had a lot of power and influence at Tottenham and that is a lot to walk away from. There are so many factors why he signed that contract and now we see what happens."