Liga MX
Tigres clicking ahead of showdown: Five Thoughts on Liga MX Round 5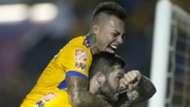 This week the establishment struck back. In so many areas of our world, the extremes are pulling through. So it was with Liga MX through four weeks of the Apertura. Week 5 saw teams that recently have been among the best in the league once again find victory (with one notable exception that we'll get to in No. 3).
Will the wave continue or will we see the traditional powerhouses come through? Time will quickly tell, with another full round of games beginning Tuesday. Before we look ahead to those contests, it's time to look back at Five Things from Liga MX Round 5:
---
Tigres clicking ahead of America showdown
---

It's not easy to defend against Tigres, and Pumas knows that all too well. The 2-0 defeat was just the latest reminder of the northern team's supremacy. In seven meetings since the 2016 Apertura, Tigres have outscored Pumas 17-4 and gotten past the Mexico City side in both the Apertura playoffs and the CONCACAF Champions League semifinals.
Saturday's matchup could've been an even game, with Pumas forward Nicolas Castillo coming into the weekend as the league's leading scorer. Instead, Tigres marked him out of the game, making sure he was isolated from Bryan Rabello and keeping Jesus Gallardo and Brian Figueroa back on the wings.
The team is now playing a three-man back line but hardly stays in that formation when getting forward, often morphing into a 4-4-2 or sending the right back or left back on underlapping runs when getting forward.
Pumas couldn't cope with that, but they also forgot to mark Andre-Pierre Gignac on a set piece — a cardinal sin. 
Now, after a mini-slump, Tigres are back in the playoff places and have a nice head of steam heading into a midweek clash against a red-hot Club America side. Enner Valencia was rested, making a late cameo, as was Jurgen Damm. Few teams in the league boast that kind of firepower at all, much less have the ability to make sure those players are fresh ahead of a quick turnaround. But Tigres' directors have built a team that has that luxury.
"The first half was average and the other was bad," Pumas coach Francisco "Paco" Palencia said flatly. "They were better than us. There's nothing more to say." 
He'll be the first of many Liga MX managers to be at a loss for words that if Tigres are able to continue harnessing their ability and carrying out Ferretti's game plan.
---
Jemez settling in at Cruz Azul
---

Cruz Azul coach Paco Jemez needed a victory over Atlas to continue his team's hot streak but also to divert attention from his bad behavior in the previous two games — getting sent off in the cup and fined for a gesture toward the stands the weekend before. The 2-1 win for La Maquina snapped a five-match winless streak at home against the Guadalajara side and put the spotlight right back on a Cruz Azul team that is undefeated through five games.
The work of getting back to the postseason for the first time since the 2014 Apertura is hardly over. Cruz Azul has a certain reputation, and while the meme is a bit forced at times the club does seem plagued by things happening to it just when it's on the verge of success.
But Jemez looks comfortable in the league now, and not just because he's feeling cocksure enough to flip the bird at a fan. In contrast to the previous tournament, his new additions have clicked quickly with Edgar Mendez and Felipe Mora scoring in Saturday's win.
The manager said he's understanding and connecting with his players, which is crucial to the team's progress.
"I need my team to have that, if we wouldn't be together. I can put together a good team, but if it's not capable of connecting, if it's not capable of getting excited, if it's not capable of interpreting soccer like I want it, we're not going to go anywhere," he said. "Today Cruz Azul has soul, heart and mind. It has everything."
Well, not everything. It still doesn't have a defeat. 
---
Chivas bottom but not in crisis
---

Chivas are bad right now. You won't find any argument with that idea here. But the idea that has been kicking around the Mexican press since Saturday's 1-0 home loss to Puebla that the team is in crisis? That won't find much purchase.
Yes, Matias Almeyda's men are in the basement, but Chivas are still the reigning champions of Liga MX and Copa MX. Plenty of that can be put down to injuries hitting at the wrong time and perhaps lingering fatigue from having a half-dozen players take part in the Gold Cup in July. They came back and got right to work after elimination in the semifinals and have had little time to rest.
The jornada doble approaching won't look friendly for a team missing Alan Pulido and still waiting for Oswaldo Alanis and Isaac Brizuela to get back to full fitness. But the international break that follows could do plenty of good toward helping the team regroup.
Jair Pereira's sending off early changed the dynamic of the Saturday's loss, and while that doesn't excuse the performance it does remind us it's far to early to reach for the panic button. In a league where teams regularly make a late push for one of the final playoff places and end up lifting the trophy, there are no crises after Week 5.
---
Busting slump a big boost for Tijuana
---

After finishing atop the regular season table for the previous two tournaments, the basement was a place where Tijuana was unaccustomed to being. Yet, after struggling to adjust to new coach Eduardo Coudet's system and losing key players like Aviles Hurtado, Guido Rodriguez and Paul Arriola in the transfer window, that's exactly where Xolos were coming into Friday's game against Santos Laguna.
Though some of the momentum faded, Xolos were able to get a goal from Gustavo Bou, the new addition's second strike since joining in the summer, and another from Ignacio Malcorra to take the lead into the halftime break and held on to win, 2-0. Better yet for Coudet, his team looks like it's starting to understand what he's asking from it.
"We felt like we identified with this style of play," he said after the game. "Today I feel like the identity is there. The team had 45 minutes at a really good level and got the result. I'm happy because the players put in a big effort. We had a great first half, we're going to keep growing. We couldn't get more in the second half, but we're going to work on maintaining those good moments for longer."
The win was just what Coudet needed. His head may not have been near the chopping block but after both league play and cup play started poorly, there were plenty of fans wondering just what the club had gotten into with the Argentine coach.
With more players buying in and able to execute his ideas, the coach is hinting that he can be the same manager who earned positive reviews while leading Rosario Central. There's obviously plenty more to do before he gets those same reviews on the border, but at least he's off the blocks.
---
Teams content with Sunday stalemate 
---

We highlighted Sunday's game as one that could produce plenty of goals based on Toluca coach Hernan Cristante's proclivity to play an open style in home games. For that, after the scoreless draw, we apologize. But only halfheartedly! There were plenty of chances in the game with Necaxa, the visitors getting four shots on target to Toluca's three. But there also was nine blocked shots between the two teams as Necaxa's center backs Igor Lichnovsky and Mario de Luna putting themselves in the path of shots from Rubens Sambueza, Fernando Uribe and Gabriel Hauche.
The result worked fine for both teams, though, even if each would've rather converted off the chances they were given.
"Today the team was good in the first 35 minutes. After that we couldn't finish off plays because we stalled in the last fourth of the field," Cristante said. "They created opportunities to score and we rushed ourselves toward the end. We didn't stay calm."
The point keeps each team in the top eight as they look ahead to difficult midweek games as Toluca visits leader Monterrey and Necaxa hosts unbeaten Cruz Azul.
"I feel like we could've won in the last moments, but today we weren't able to," Necaxa boss Nacho Ambriz said. "We played against a good team, well coached by Cristante, and we went for the counter. We had chances to score but we weren't able to finish. At the end if we'd scored, we'd be happier, but I think we're thankful for the great effort the players are putting in."
---
Goal of the Week
---
Julián Quiñones marcó doblete en la derrota 2x3 de Lobos BUAP que recibía al Club América de Quintero y Meteus Uribe que esta lesionado. pic.twitter.com/R6LbSTKZQV

— Área Deportiva (@areadepor1350) August 20, 2017
With apologies to Dorlan Pabon's perfectly measured free kick, Julian Quinones gets the nod this week — in no small part because you may have missed it. As promoted Lobos BUAP still fail to find a broadcast partner for their home games, actually seeing said games is quite the task. In today's modern era there are streams that pop up from the stadium but, as you can see from the quality of the clip above, it's not exactly what we've gotten used to.