African All Stars
Thulani Serero pleased with Player of the Month accolades for Vitesse Arnhem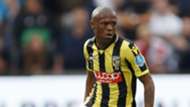 Bafana Bafana midfielder Thulani Serero has expressed his delight at winning the Player of the Month accolades for the months of August and September in the Dutch Eredivisie.
"I'm very grateful. It is the consequence of hard work. It shows that I'm on the right path. And it is also an honour for the team that has begun the season so well," Serero told the Dutch media.
"I can't really explain why I have my rhythm  back so quickly after not playing for so long but I walked into a warm nest at Vitesse," Serero said.
The 27-year-old joined the club from Ajax Amsterdam at the start of the season, and is surprised with the ease he has managed to adapt at Vitesse Arnhem.
"From the moment I arrived I've felt comfortable and for that I must thank everybody at the club. For the rest, it's a real surprise for me. I was convinced that I could contribute but the truth always lies on the field," Serero said.
Serero attributes his form to a good pre-season campaign, but cautions he has always been a different elephant on the field of play.
"The first weeks at Vitesse were really difficult. Everything felt painful. I had to get used to extertion again, the rhythm of training and match fitness," Serero said.
"I had to get my strength, my speed and my conditioning back quickly. You can beat me in anything you like - cards or other games but on the football field I want to win, that is where I am in my element," Serero added.