PSG
Thomas Tuchel's task at PSG to get tougher after Napoli loss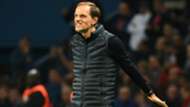 Paris Saint-Germain are most definitely feeling the pressure in the Champions League especially after their 2-2 draw against Napoli.
With huge sums of money being invested into the team, Thomas Tuchel's future could be in serious doubt should the French giants fail to emerge from their group.
Tuchel's cause however is not helped by Neymar's petulance. The Brazil captain is a joy to watch and is definitely one of the best players in the world but his attitude at times can be questionable.
Neymar allegedly kicked out at camera following his team's draw with Napoli and such antics reminds us of the 2018 World Cup, where the Brazilian's consistent effort in diving earned the ire of many.
Tuchel has a serious conundrum on his hands. PSG tend to falter when coming up against the big guns in the Champions League. Their stars tend to cower instead of standing up to pressure and taking responsibility. A 2-2 draw against a Napoli side whose budget is miniscule when compared to the Parisians is definitely unacceptable.
For Tuchel the next few months are going to be crucial, he needs to get his players focused towards the common cause. Whether Neymar is a part of that, is a question only the German can answer.