Paul Pogba
The Paul Pogba problem: Man Utd and France's battle with tactical inflexibility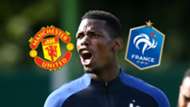 ---
COMMENT
---
For the past 12 months, Jose Mourinho has been trying to get his head around a problem that Didier Deschamps has failed to solve for the last five years, namely how to get the best out of Paul Pogba.
The world's most expensive footballer he may be, but after making a £90 million switch from Juventus to Manchester United last summer, the 24-year-old Frenchman has struggled to justify his price tag. It would be going too far to call him a flop exactly, but it is clear that he is not living up to his potential.
Morata agent confirms United bid
Fans at Old Trafford are now experiencing what those with France have felt since Deschamps handed him his debut in a 3-1 win over Georgia in 2013. Another 45 caps later, Pogba has never been terrible, yet there is a nagging sensation that there is still a good deal more to come from a player who was able to light up Juventus during his profoundly successful four years in Italy.
In Turin, Antonio Conte and then Massimiliano Allegri were able to find the balance required for the midfielder by fielding him in a three-man midfield in front of three centre-backs. That is not Deschamps' style and neither is it Mourinho's, and as a result they have struggled to fit him into their respective sides.
The touchmaps of the player in league football over the last two campaigns show how much more active he was in Serie A, particularly in an attacking sense, where he is capable of coming into his own thanks to a knack for the audacious.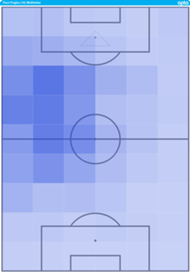 Pogba for Juventus in Serie A (2015-16)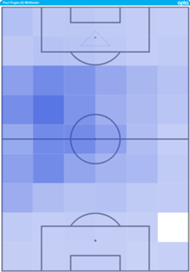 Manchester United in the Premier League (2016-17)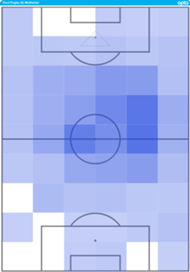 France in 2018 WC qualifying
With United he is more withdrawn and less integral, while his role with France, taken during the 2018 World Cup qualifiers, is completely different entirely - he barely features in the areas where he was effective for Juve.
Indeed, the Paris-born player seems to suffer from the same syndrome as Karim Benzema, whose exclusion from France duty continues. He is neither one thing nor the other, struggling to fit into any one clearly defined role.
Pogba is not technical enough to justify playing as an outright playmaker but is too free-spirited to play as a deep midfielder, either in a defensive role or as a playmaker. Indeed, his contribution as a holding player alongside Blaise Matuidi as France suffered a shock 2-1 defeat to Sweden at the weekend was pinpointed for criticism by former France striker Yannick Stopyra.
"I saw him walk a tremendous amount," he told L'Equipe. "I was watching him on the scale of the whole pitch. I told myself: 'It's not possible.'
"When he had the ball, he made some passes, switched the play sometimes, but there was no movement. For more than an hour, I never saw him make one long run, with the exception when he fouled Jimmy Durmaz, who was on the break. He walked, making signals with his arms."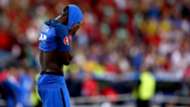 It should be stressed, it has been a long season for Pogba, who has played more than 50 times for United and a further seven with his country – and those following a seriously curtailed pre-season due to Les Bleus' involvement deep into Euro 2016. As soon as he signed at Old Trafford, he found himself playing.
Yet his price tag seems to outweigh his importance to the team and offers him an untouchable status that appears misguided.
France are not a squad short on talent. If Deschamps felt more energy was needed in his midfield, N'Golo Kante, the Premier League's Player of the Season, no less, would have made a fine addition to the team, while Corentin Tolisso and Adrien Rabiot were also available to add technical quality or physicality as the coach saw fit. Pogba simply seemed to be there because he is Pogba.
If Deschamps really does want him in his side at all costs, that may well mean modelling his approach on the Juventus set up that extracted the best from the rangy midfielder. If he chooses not to do this, taking the bold step of dropping the game's most expensive player could be the way to get more from his side. 
Lindelof a statement signing for Mourinho
Given that he did not pay an exorbitant sum for the player, doing that is infinitely easier for him than it is for his club manager. 
Perhaps, though, the problem lies not with Mourinho or Deschamps - perhaps Pogba and his relative inflexibility is the problem.