UEFA Champions League
The big interview: Q & A with Qarabag and Bafana Bafana striker Dino Ndlovu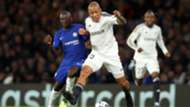 Goal: Dino, thank you very much for your time. Please take us through your emotions and the process of qualifying for the Uefa Champions League group stages. 
Dino Ndlovu: We went into the pre-season and we had a conversation with the coach and board of directors because our president leaves in London and doesn't get enough time to come and talk to the players. So our sport director is the bridge between the players and the president. So, we had the conversation with him that we had been trying for the past four years to qualify for the Champions League [group stages]. This was our vision. So, we told ourselves that we should do it. We had the belief and the philosophy in place better than last season. We prepared early and better. It was a historic moment for the country and the country. Individually, to have helped the team to qualify for the Champions League and be on the hall of fame... on the wall of one of the players that scored the important away goal for the team, is an honour because not many South Africans move abroad and hold that special place in their respective teams. So, it's really an honour that I also managed to meet the president of the country [Ilham Aliyev] and have a one-on-one chat with him. Even money cannot buy the way they felt when that final whistle blew. So, it was really an emotional moment for the club as well as the fans.
Goal: When did you realize that it was actually possible for Qarabag to qualify for the group stages?
DN: I think when we got into the third round. In the second round, we got a decent team, not the best team, but a decent team. In the third round, we got a difficult team; a team that has good players and an Italian coach who coached in Sassuolo and Chievo in Italy before. Defensively, it was very difficult to break them and we drew 0-0 with them. And we thought, 'if we drew at home, what is going to be like away from home?', but after we won against Sherriff then that was the moment. We had a brief pep talk with the coach and the players and the captain that this was now or never. We said if we don't qualify for the group stages then we might as well not bother about playing the play-offs.
Goal: Personally for you and the rest of the team, what was your reaction after being drawn against the likes of Chelsea and AS Roma in the group stages?
DN: We knew that any team we would come up against, it was going to be tough because it's not like in the Europa League where they can draw you against normal teams. You know you might have a chance of qualifying for the knockout stages [in the Europa League]. In the Champions League, you meet all the champions from across Europe and other big clubs from big leagues. So, we were prepared and we knew that we were going to face some of the big guns. So, for us it wasn't a surprise to be pitted against the likes of Chelsea and Roma.
Goal: What was it like for you when you walked onto the pitch at Stamford Bridge knowing that South Africans were watching you, especially as the only SA player in the competition?  
DN: It was an emotional moment for me because a lot of people had written me off, and for me, it was a big stage that, 'here I am'. Having said that though, I don't play football or do anything in my personal life to prove anyone wrong, but I proved to myself that I have the talent, and I'm playing in a good team. Even though the league is unknown, but I'm playing for one of the big teams and we're here in the Champions League. It's not everyone from that country [Azerbaijan] who gets the chance to qualify for the Champions League. So, it was emotional for me. I remember I once had a conversation with my manager, Walter Mokoena, when he recruited me in 2009. He said to me,'Dino, one day you will get the chance to play Champions League football', and that statement played on my mind when I was in the tunnel.
Goal: How did it feel to rub shoulders with players you watch on TV week in and week out?
DN: The experience was overwhelming, because when you watch them on TV is different to when you're on the pitch. You might think your Cesc Fabregas and [N'Golo] Kante are not the fastest, but I think tactically, Chelsea are the best. They let us play where they wanted us to, and they played in our half. That's why even our coach when the scoreline was 3-0 at half-time, he said 'look, this is not our domestic league. Teams like this get half a chance and they hurt you', and they did. That's why we found ourselves 3-0 down at half-time and it ended with 6-0. However, I think we lacked that ambition because we had already achieved our mission of playing in the group stages, but for us this year is about experience and the feeling of being there among the best teams. Maybe in the next two years or so, we can focus on finishing second or third and make it through to the Europa League.
Goal: What lessons did you take from facing both Roma and Chelsea so far?
DN: After the games, I went back to training and worked on my finishing. I need to improve that aspect of my game, and I think I'm getting there. In terms of patience and tactical ability, playing those games taught me to be patient, because you're not going to have the ball all the time. Some players get frustrated and anxious when they are not getting the supply, and they lose the plot. When you defend, you also need to focus on attacking so that when the opposition loses possession you would be able to counter and exploit those empty spaces. It also helped me a lot to save the energy as well.
Goal: Take us through your assist against Roma and the only goal that Qarabag scored on the day. Did you expect your team to score against Roma that day?   
DN: I always believe that we have the upper hand to score when we are playing at home. Usually, when I get the ball, I shoot because I'm closer to the box, but that night, when I looked up I saw my teammate [Pedro Henrique], and I said, 'l can't be selfish', and then I passed it to him. I do believe in our front three – that row is one of the best we have in the attacking third, and I knew that if I passed him and he had a good control, he would finish it, and he did.
Goal: What would your advice be to PSL players who are facing the same criticism you faced before you moved abroad, and should all PSL players dream of plying their trade abroad?
DN: My advice to everyone is that we need to have a wide view on how to pursue our goals. It's not every player in the PSL who will get the chance to play in France, England, Spain or Germany. I think any chance you get to play in Europe, why not? Leave your comfort zone and go test yourself because you don't know what might be the outcome, even if it's not a big league. Look at me, I challenged myself in one of the unknown leagues. We all have to start somewhere.