Thai League 1
Thai League adds 2 more ASEAN slots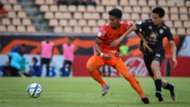 For the 2018 season, Thai League open its door for it's clubs to start to sign Southeast Asian players when the import ruling was changed to a 3+1+1 format where the plus ones were an Asian and ASEAN slots.
Thai clubs have since gone on to take Myanmar's Aung Thu and Kyaw Ko Ko, Singapore's Zulfahmi Arifin and Gabriel Quek, Malaysia's Shahrel Fikri and Curran Ferns as well as Philippines' Mark Hartmann and Hikaru Minegishi
However starting the 2019 season, the ruling will be upgraded to a 3+1+3 format with two foreign slots given to Asian and ASEAN players. Although, it was initially intimated that ASEAN players could be given the same tier as local players which would make it an open market for ASEAN.
"Today (Monday), FA Thailand and Thai League invite Thai League clubs to discuss about handing opportunity for ASEAN players coming in Thailand. We propose 'ASEAN = Thai player'. But even we all agree for spreading Thai football across the region, player's qualification still matter to concern."
"If we have ASEAN players play in Thailand, so Thai League fans will surely grow, as well as our league's value, as well as club's income, which ultimately allow them to develop good players.
"So we comes to the conclusion that, in first XI,  will need to have at least four Thai players, foreign and Asian slot will be 3+1 as the same, but there will be 3 ASEAN slots as option," said Pol. Gen. Somyot Pumpanmuang, the FA Thailand President

That would not be the only change as the Thai League will also work to cut down the number of clubs from 18 to 16 with five teams to be relegated from the League 1 at the end of the 2018 season.
This could work out to be good news for Malaysian players seeking to replicate what Shahrel, Currans and Francisco Insa before them have done, moving north of the border to further add on to their footballing career.