Nigeria
Sunshine Queens defeat Ibom Angels in Nigeria Women Premier League opener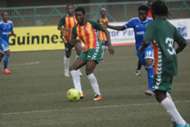 Sunshine Queens defeated Ibom Angels 2-1 in the Nigeria Women Premier League opener at the Akure Township Stadium on Saturday.
Goals from Wilfred Eyebhoria and Patricia Innocent helped Matthew Wemimo's ladies overcome the Uyo based ladies despite Glory Ogbonna's effort.
Eyebhoria put the home team in front in the first half but Ogbonna leveled for Whyte Ogbonda's side before Innocent netted the winner for the Owena Mermaids.
Wife of Ondo State Governor, Betty Akeredolu, was present at the stadium and applauded the organisers while pledging her support to grow the women's game.
"We are in an age where promoting physical fitness and sports are veritable tools to engage the energy of the youth to reduce youthful restlessness," Akeredolu told media.
"Sports transform restless youth to become productive and now provides a sustainable means of livelihood. We must ensure that we promote it at all level.
"Women's football is an enjoyable sport. Everyone should come and patronize women's football. I'm throwing my weight behind the league and encourage and engage young girls in the women's game. We will mobilize in subsequent games."
After being named the match's most valuable player, Innocent said: "I'm very happy. I just applied my coach's instruction to shot whenever I have the ball."
Meanwhile, chairperson of the Nigeria Women Football League, Aisha Falode expressed joy at the bright start and she is confident her dreams reposition the women's league will come true.
"When we said the 2016/2017 league season will be one never seen or known before, I meant it. We worked very hard to ensure we kick started with the vision that we had for the women's game.
"We thank the state governor's wife for honouring us with her presence even though it was a short notice - she embraced it because she saw our vision.
"We couldn't have had a more competitive opening match like we had between Sunshine Queens and Ibom Angels. We have seen that we recorded an appreciable number of crowds and saw beautiful football. We are very satisfied and optimistic that we will have an exciting season," Falode concluded.