Mamelodi Sundowns
Sundowns star Billiat disappointed to miss out on Zimbabwe match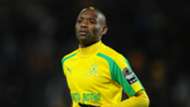 Reports recently emerged where Khama Billiat was at the heart of a spat between his club Mamelodi Sundowns and the Zimbabwe Football Association (Zifa).
The 26-year-old had missed the Brazilians' last three encounters through injury and was subsequently not allowed to report for national team duty ahead of the Warrior's Africa Cup of Nations qualifier against Liberia. However, ZIFA were adamant that the Harare-born playmaker should report for duty and be assessed by their medical team.
After much deliberation, Sundowns released the attacker, and it has now been confirmed that he is yet to recover from an ankle injury and was sent back to Tshwane.
Following confirmation of his injury, Billiat was understandably disappointed to miss out on representing his country.
"I am so disappointed. If there was anything I could do to be fit and play, I would play any day but sadly it's not in my control. I always want to represent my country, I feel like I have so much to offer the nation," Billiat told Zimbabwean reporters.
"For me to be on the list makes me want to play because there are so many Zimbabweans that are very good, but I am getting a chance to represent my country," Billiat concluded.
According to reports, Billiat's injury is severe and he has been put on an intensive rehabilitation programme.