Mamelodi Sundowns
Sundowns coach Pitso Mosimane: Baroka players didn't want to play football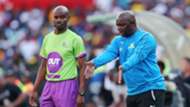 Mamelodi Sundowns head coach Pitso Mosimane was certainly not a happy man after his side was held to a goalless draw by Baroka FC on Tuesday night.
Bakgaga, clearly motivated by their recent Telkom Knockout Cup win, put on a valiant display where goalkeeper Elvis Chipezeze was the difference on the night.
However, after the game, the 54-year-old tactician lashed out at the referee for what he saw as time-wasting tactics employed by coach Wedson Nyirenda's men. 
"I think we should congratulate Chipezeze for being named man of the match for wasting time hey," Mosimane told SuperSport TV.
"(Referee) Phillip Tinyani is experienced, how can you allow Chipezeze to do that after he did the same things against Pirates?"
"He's falling all the time, to kill time and he kills our momentum. Referees should be able to see what he's doing. I mean these guys don't want to play football, two of them on the ground.
Meanwhile, Mosimane was not all too pleased with Chipezeze being awarded the man of the match award due to his on-field antics.
"Chipezeze did the same thing against Pirates, and you guys give him man of the match. He's a good goalkeeper and probably deserves the award for playing, but when he wastes time like that and you still give him the man of the match award," he added.
"We are not thinking, who chooses that? I don't understand, in South African football we need to look at things differently. I know you're going to say 'why me?' but I'm right and I know I'm right," Mosimane said.
"I mean he deserves the award, don't get me wrong... but we know who does this, on the floor all the time in South Africa, the specialist," he expressed.