African All Stars
Isaac Success performances point to life after Deeney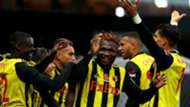 ---
COMMENT    By Solace Chukwu    

Follow on Twitter
---
It is easy to imagine that, coming into the season, Isaac Success had a to-do list of action items. The first, and most obvious one, was to lose some weight.
Injuries, and the downtime from training that they entail, can be huge pitfalls for even the biggest players. For Success, only 22 and for whom, it had been established, via previous indiscretions, professionalism does not come naturally, it proved downright disastrous.
He returned looking rather tubbier than a footballer should, and so if he was to get back into the reckoning at Watford, he needed to get rid. That he did, by resuming preseason early and committing to a gruelling regime which also took in a personal trainer.
Having seen to the first, the subsequent items - starts, then goals - were always more likely to be ticked off.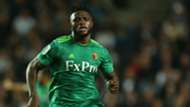 For Success, latent ability has never been in doubt.
Javi Gracia, Watford's lugubrious manager, would know all about that: thrice, he went up against Success as coach of Malaga, while the player was still at Granada. The player did not score on any of those occasions, but his power and quick feet made an impression.
Having found the back of the net against Tottenham Hotspur and Reading in the League Cup, he was entrusted with a starting spot against Wolves. He may not have scored on that occasion, but he remedied that in reprising the role this past weekend against Huddersfield Town.
Beyond the goals themselves was the significance of them, as they were achieved in the injury-enforced absence of club captain and talisman Troy Deeney. The beefy forward so completely embodies Watford that it has at time seemed barely conceivable playing without him.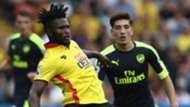 With Deeney out, Gracia has opted to move away from his 4-4-2 system and bring in Gerard Deulofeu. It is instructive, however, that it is Success, not regular strike partner Andre Gray, who has come into the side to play that lone forward role.
It could well be an indication that, rather than simply a body to fill in for the captain while he recovers from a hamstring injury, Gracia's decision has a more long-term, holistic outlook. Simply put, it may be the first step in evolving the side, as weaning it off the purely physical ethos of Deeney and onto a more technical one.
Being past 30, it makes sense to seek more varied attacking avenues than Deeney can offer.
In any case, his eight appearances this term have only yielded two goals, and while some of his best work is done as a foil, there is a thin line between that and becoming a cultural indulgence.
Success is in his sweet moment, and looks set to finally begin justifying the club's huge outlay.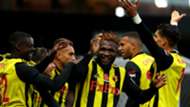 His goal may have looked easy, turned in from close range, but he was alive to the possibility, moreso than any of the Huddersfield defenders, and got the technique spot on. It was the finish, not of a man desperate to leave a mark, but of a man in his element, fully certain of his own ability.
Which is just as well, because there are precious few African strikers leading the line in the Premier League, and even fewer still are regulars. Whereas Steve Mounie is used sparingly, and Kelechi Iheanacho often plays just off Jamie Vardy at Leicester, Success would buck the trend as the first-choice centre-forward at Vicarage Road.
He is still feeling his way in, but already it is evident what he brings: the stamina to run the channels alone, the pace to beat the defender on the outside, the strength and size to hold the ball up. All this adds up to a very exciting package and, whether by coincidence or design, Watford have quickly returned to winning ways and their early season form since his introduction into the starting line-up.
The prospect of what the Hornets could be when he is in full flight will have their fans abuzz with excitement.