Africa Cup of Nations Qualification
Stuart Baxter: Door is still open for Thulani Serero and Tokelo Rantie to play for Bafana Bafana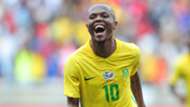 South Africa head coach Stuart Baxter has insisted that the door is still open for midfielder Thulani Serero and striker Tokelo Rantie to play for Bafana Bafana.
This is despite the South African Football Association (Safa) having stated that Serero would no longer be selected to play for South Africa.
Last year, Serero, who plies his trade in the Dutch Eredivisie for SBV Vitesse, said he would rather sit on his sofa at home in Holland than sit on the Bafana bench.
Turkey-based striker Rantie made it known that he was not available for selection. Rantie plays for Turkish Super Lig outfit Gençlerbirliği Spor Kulübü.
But Baxter has since said that the duo would have to show their commitment to the country to be selected in future according to City Press.
"I would like every South African to want to play for the country," the British tactician said.
"Every player who wants to represent the country is welcome, but if someone says 'I don't want to' or 'I will only come if this happens' ... if that's the attitude, that's ok, it's his choice," he added.
"I don't want to speak about individual players, but the culture around Bafana must change because, for a long time, things have been the same," the former Kaizer Chiefs coach continued. 
"National call-ups have not been seen as the honour that it is, but as a reward. It should be an honour to represent your country without expecting any compensation. Reward has to be almost as important as putting on the shirt," Baxter explained.
"The important part for players is to be thrilled and inspired to be here," Baxter, who is in his second stint as Bafana coach, concluded.
The 64-year-old trainer is expected to announce the Bafana squad for the upcoming friendly matches against Zambia, Angola and Zimbabwe.
The four-team tournament will hosted by Zambia during the Fifa international break later this month.