A-League
Steven Ugarkovic hungry for goals as Newcastle Jets head to China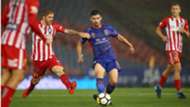 One of the A-League's most under-rated players is eager to ensure he gets a little bit more attention next season with Newcastle Jets midfielder Steven Ugarkovic desperate to add goals to his game.
After falling to Melbourne Victory in the grand final less than two months ago, Newcastle are about to fly to China to start their pre-season with clashes against Beijing Goan, Shanghai Shenhua and Sydney FC awaiting them.
As a defensive midfielder, Ugarkovic inevitably went under the radar for the Jets last season as he played a vital role in Ernie Merrick's midfield.
With just one goal to show for his efforts, the 23-year-old wants to be finding the back of the net a little more in what will be his fourth season with Newcastle.
"Scoring goals is a big aim for me this year and for me personally it has to start in pre-season," Ugarkovic said.
"It's a good chance for myself and other players to show what they can do in different positions."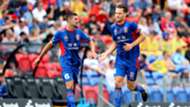 While their team is still coming together, the Jets currently boast a relatively young squad and Ugarkovic is ready to take on some added responsibility. 
"It's a chance for us so called older players to step up and show our leadership on and off the field," he said. 
"And to take that next step, whether it's scoring goals or things like that."
Though still just 23, the midfielder has 65 A-League appearances to his name and prior to joining the Jets spent four seasons in Croatia as a teenager.
From three campaigns in the top flight with Osijek and one on loan a division down with Gorica, Ugarkovic clearly learned a lot during a tumultuous stint in Europe.
While Ugarkovic's time in Croatia ended in an unsavory manner, he is keen to return to Europe in the future and another stellar season with Newcastle could well be the key to that. 
"Europe is a big goal for me later on in my career," he said.
"So that's a step I want to take in the next five to ten years hopefully."