Tottenham Hotspur
'Spurs will fight until the very end' - Dier aiming for strong Premier League finish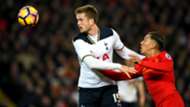 Eric Dier has outlined Tottenham's aims for the rest of the season, with Mauricio Pochettino's side battling for a Champions League place.
Spurs currently sit in second place, 10 points behind leaders Chelsea after a disappointing 2-0 defeat to Liverpool on Saturday.
Mourinho: Top four will leave us behind
With 13 games left in the season, Dier believes the race to the finish will be very difficult, and has admitted Spurs are aiming to end up in the top four.
"It is very tight, it is going to be a fight until the very end," Dier told the Evening Standard.
"There are lots of very good sides, including us, fighting for it. We are going to keep focusing on improving and hopefully we will be in the top four."
The England international was disappointed with his side's performance against Liverpool, and feels the club need to do better in the run-in.
Tottenham have lost just three games this season, but Dier knows they cannot have many more slip ups if they are to achieve their aims.
"I think we still need to improve in all areas. We have never not said that," the 23-year-old continued.
"We still have a long way to go and we need to keep improving and working hard.
"There is lots of stuff we can still improve on. We can't just talk about it, we need to do it."