I-League 2nd Division
SK Faiaz and Rana Gharami roped in by Mohammedan Sporting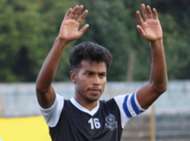 Mohammedan Sporting are languishing at the fourth spot in Group C of the 2nd Division I-league. With three matches to go, they are five points behind table-toppers Tiddim Road Athletic Union (TRAU). They have failed to register a win in their last five outings where they have drawn thrice and lost twice. 
To turn around their season, the club officials requested former players, namely Rana Gharami and SK Faiaz, to help the team. Both Ghramai and Faiaz have responded positively and will feature in the final three matches of the group stages. Notably, Gharami and Faiaz have signed contracts with Indian Super League (ISL) sides Delhi Dynamos and ATK respectively.
"It is time that I give something back to the club which helped me earn recognition. It would be great if I can help Mohammedan qualify for the final round by winning the three remaining matches. My contract obligation with Delhi Dynamos will start from June 1. So, currently I am not bound by the contract," confirmed Gharami to Goal. 
After the 1-0 loss to Chennaiyin FC Reserves, the management have already decided to axe coach Biswajit Bhattacharjee and have appointed Mridul  Banerjee as the replacement. The Black and Whites are set to lock horns away from home with Bengaluru FC Reserves on April 29 in their next game.