Malaysia Cup
Selangor's fundamental flaws laid bare in defeat to Kedah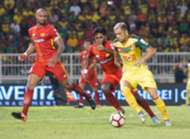 ---
BY        ZULHILMI ZAINAL       Follow on Twitter
---
The Red Giants have been defying the pessimistic initial expectations of many observers this season, producing several good results in the Super League and the Malaysia Cup to currently be fifth in the standings, and in the cup quarter-finals.
But on Friday, playing at home in the first leg of their quarter-final tie against Kedah, their core weaknesses were simply exposed by the visitors; even without taking into account the Ken Ilso Larsen brace they conceded within fifteen minutes of the kickoff.
The match, which ended in a 3-2 defeat for the hosts, proved that the 33-time Malaysia Cup champions are simply a plucky side which have managed to punch above their weight at the opportune times throughout the season.
Selangor are average when no one is outstanding
Head coach Maniam Pachaiappan's charges have produced several memorable wins this season; for example their two wins against Johor Darul Ta'zim (JDT), and a 1-0 league win against Perak away from home playing with 10 men.
But these results happened because at least one of their players performed exceptionally well. In their Malaysia Cup group stage win over JDT in July, veteran forward Amri Yahyah carried the team and scored a brace to make sure that his side would win the match 3-2. In the following month, they would record a 2-1 win over the Southern Tigers, this time in the league, thanks to the numerous saves made by goalkeeper Norazlan Razali. Norazlan too put out a man-of-the-match performance in the win against Perak, which ensured that Forkey Doe's beautiful chipped goal would stay the only goal of the match.
But against Kedah on Friday, no one seemed to be able to play well, and with no one to carry the team, Selangor looked quite average. Goalkeeper Khairulazhan Khalid let in two goals before he even touched the ball, defender Adam Nor Azlin did relatively little to contribute in defence, while winger Kannan Kalaiselvan was unable to assist the attack with much impact. Only Amri looked close to shining in the match, but after two of his on-target attempts were denied by Kedah goalkeeper Ifwat Akmal Che Kassim just before halftime, for the remainder of the match he sat deeper and let the other forwards lead the attack.
It is not enough for a team to have one or two good players, the team itself needs to be able to play well as a unit, and on Friday, as well as in various matches this season, Selangor as a unit have failed to turn up.
Over-dependence on Ukah
It is to no one's surprise that centre-back Ugo Ukah is a fan favourite. The Nigerian-Italian defender is a decent centre-back, has a strong physique that neutralises aerial threats in the penalty area, has a commanding presence when organising the defence, but what is most impressive about him is his covering of space. He is not the fastest player, but his stride and positioning ensure that he is able to defend a wider area than most defenders in the league are able to.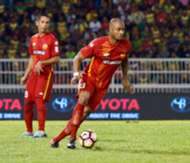 Photo from Kedah FA Facebook
But this ability of his has somehow allowed the Red Giants' other defenders to coast. They by comparison have not been pulling their weight, and when there simply is too much to do such as in the match against Kedah, the defence will prove porous.
It's simply bewildering that captain Razman Roslan has not matched Ukah's influence on the pitch, if not his abilities. More disappointingly, Razman too committed several individual mistakes against Kedah.
And on Ukah's left, Adam Nor Azlin has been showing one glaring weakness in his defensive duties. While playing for Malaysia U22 in the recent SEA Games, he emerged as one of the Young Tigers' outstanding performers as a defender, specifically as an ad hoc last man who denied many of their opponents' chances with perfectly-timed last ditch tackles. But those tackles were hiding a serious flaw in his defensive duties; Adam's marking is quite poor for a defender. His success rate at stopping attackers is not as good as a defender's should be, and playing against more experienced players in senior competitions, especially against clubs with players who are very good technically such as Kedah, have only served to amplify this particular weakness of his.
Doe has not combined well with Rufino
Liberian forward Forkey Doe and mid-season signing Rufino Segovia are currently among the Red Giants' top-scorers in all competitions, but it is quite unfortunate that the duo have not been able to combine well to produce a greater sum of their combined individual abilities. Doe is more of a ball-holding forward while the Spaniard is a traditional poacher, but against Kedah and throughout the competition very few of Rufino's goals came from Doe's deliveries.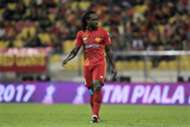 Photo by Fadzlie Ahmad
Doe managed to get a lot of possession against Kedah, but he chose to keep the ball for too long, and by the time he did pass it, Kedah defenders would have been back in position to anticipate his delivery. And his job too was made harder by the fact that everytime he had the ball near the Kedah penalty box, at least one Kedah player would position himself between Doe and Rufino, blocking the channel.
He needs to trust his teammates more and be quicker with his deliveries, or all that possession will be for naught.
Central midfield remains Selangor's weakest area
Having gone two goal in front after just 15 minutes, Kedah pounced on the hosts' main weakness; their midfield area, by simply keeping the ball in the middle of the park away from either touchlines, moving it from one player to another.
And for a few minutes, there was nothing that Selangor central midfielders Saiful Ridzuwan Selamat and Veenod Subramaniam could do except chase the ball around like headless chickens, and for a few minutes, the match looked like it would end up a laughably one-sided affair, with a huge margin. Kedah midfielder Liridon Krasniqi was simply bullying the hosts.
But it was not because Saiful and Veenod was having an off-day. The only problems are that Saiful has never been an outstanding midfielder, while in Veenod's case he is more of a utility man than a midfielder altogether.
All season long Maniam's team have been lauded for their effective wingplay which has produced most of their goals, but against Kedah we finally realised why it was effective. Their build up play from the sides have to be good in order to make up for their inability to attack through the middle route, which is their biggest weakness, although probably not the most obvious (although the fact that they are among the few Super League clubs who do not employ a foreign central midfielder provides a clue).
And teams with a strong midfield could exploit this weakness successfully, at least in terms of keeping the ball out of Selangor's possession.
And in Friday's match, Kedah thankfully let up the bullying in the midfield area, which eventually let Maniam's men mount a fight back and score two goals, to set up a second leg encounter in Alor Star next weekend with all still to play for.
This is by no means to say that Maniam's men are a bad side. The fact that they have punched above their weight in spite of all these core weaknesses means only one thing; the Red Giants can be an genuine title challenger next season if the flaws are corrected.