Napoli
'Sarri only interested in money' - Napoli owner savages Chelsea boss again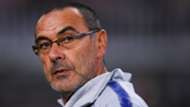 Chelsea manager Maurizio Sarri is motivated solely by money, according to Napoli owner Aurelio De Laurentiis.
Sarri left the Serie A club over the summer and joined the Blues on a three-year contract, with Carlo Ancelotti taking the reins in Italy.
Ancelotti was announced as Sarri's successor before he officially left the Serie A club, with Chelsea struggling to agree a compensation package with Antonio Conte over his own departure from the Premier League outfit.
And De Laurentiis has again taken the time to hit out at the manager, whom he previously criticised for failing to win a trophy when with Napoli.
"Sarri? I thought I had met a coach who would stay at Napoli for a long time. At a certain point it became a question linked exclusively to money," De Laurentiis told Corriere dello Sport.
"Suddenly, it was established by the media that his contract must be adjusted. So what is the value of an agreement just signed? We had already gone from 700 thousand euros to a million and a half. 
"I also once heard him say that for his next contract, he wanted to get rich.
"Sarri's declarations of love for the city? I believed it, but then I wondered: 'What if he was using me as a bank?'"
Chelsea are currently second in the Premier League, level on points with leaders Manchester City but behind on goal difference.
De Laurentiis, while full of scorn for Sarri, has been fulsome in his praise of Ancelotti, who has led the club to second in Serie A, and also masterminded a 1-0 victory over Liverpool in the Champions League.
"Ancelotti was a date written in the football universe as if fate had decided it," De Laurentiis added.
"It took five minutes to get an agreement. The quickest negotiation of my fifteen years of football."
While Napoli are second, they are six points behind Juventus, but the club supremo is confident that they will be in position to pounce if the Bianconeri slip up.
"There will be a moment when even Juventus can break," he said.