African All Stars
Is Mohamed Salah's year set to get even better at the World Cup?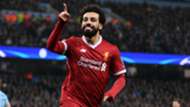 ---
COMMENT    By Solace Chukwu    

Follow on Twitter
---
There is now, more than ever, a sense of inevitability with Mohamed Salah inside the penalty area. The records continue to tumble, the balls continues to fly past goalkeepers contorted in varying shapes, and the question of where he figures in the Ballon d'Or discussion continues to rage.
That topic is definitely there to be debated, especially seeing as there has not been an African Ballon d'Or winner since George Weah in 1995. Were that to be the sole standard for Salah, there would be no hesitation whatsoever; instead, he's playing poker with the extraterrestrials.
Liverpool's deep run in the Champions League means he has a seat at the table, at least, in mythical company alongside Lionel Messi and Cristiano Ronaldo.
However, it is widely acknowledged that, in major tournament years, performances at international level can skew the minds of voters. As such, and with the Reds having one foot already firmly planted in the final in Kiev, were Egypt to enjoy a strong run at the World Cup in Russia, Salah's odds would greatly improve.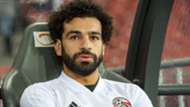 The trouble with this is that the longer and more demanding a league campaign is, the likelier it is that fatigue becomes a factor in summer internationals. In a cruel paradox, the sheer volume of goals it has taken for Salah to 'buy in' to this exalted table make it less likely that he goes one better.
His decisive contributions have fuelled and kept Liverpool alive right to the very end, and by the time the Champions League final is played on the 26th of May, it would be 20 days to Egypt's opening World Cup match against Uruguay.
Instances are rife of great players turning up completely jaded at Mundials.
Mohamed Salah | 2017-18 Premier League stats
Perhaps the most pervasive and popular case of fatigue was at the 2002 World Cup, one notorious for its huge upsets and odious quality; several favourites underwhelmed, and it might have played a part in the decision to dispense with the old Champions League Second Group Stage.
What shape Salah would be in going into the World Cup is impossible to tell.
That said, it is worth noting that this is his first season without a winter break since moving to Europe, and he did not, as most do, suffer a dip in those winter months. This is as much a potential source of worry as anything else: it just means the crash has not happened yet.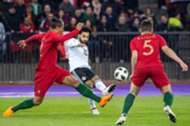 However, worrying as it is, it cannot be got around: with Egypt, Salah is talisman, goalscorer and outlet.
In whatever shape he is in, the Pharaohs simply cannot not play him. The term 'one-man team' can often seem pejorative, but under a manager like Hector Cuper, for whom aesthetics mean very little and the means is subjugated to the end, there is no real shame in that.
Neither is there, for that matter, a willingness to grow out of that dependence. The Pharaohs are a shadow of the great sides of the noughties, completely wedded to a defensive style which relies on Salah to be both conduit and nozzle.
If there is any consolation to be had, it is that playing in this fashion perhaps allows Salah the luxury of energy economy. While at Liverpool he is one-third of a frothing, charging, high-pressing trio, his role with Egypt grants him the rights of democracy, exempt from overt defensive duty.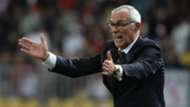 It is an allowance that is uncommon in modern football, with its emphasis on compactness and pressuring the ball-carrier, but the 25-year-old's international numbers - 33 goals in 57 appearances for Egypt - bear out the approach as viable and successful, at least on the continent.
Whether Cuper can get away with it at the World Cup is an altogether different matter.
They seemed to manage just fine in last month's friendly against Portugal, and the likes of Russia and Saudi Arabia do not exactly possess attacking impetus from full-back. One might argue that what promises to be a low-scoring group, as well as the cagey nature of knockout football, would be to the liking of a defensive-minded manager.
If Egypt continue to pick their moments, it would play into the hands of their star forward; there is surely no more decisive player in world football at the moment.