Johor Darul Ta'zim
Safiq Rahim opens up on his time with JDT, his career best and what's next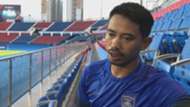 When Johor Darul Ta'zim (JDT) started their revolution back in 2013, Safiq Rahim was HRH Tunku Ismail Sultan Ibrahim's (TMJ) first marquee signing in embarking the start of the project. Three league titles, one AFC Cup trophy and one FA Cup trophy later - it has been a trophy-laden period for Safiq and JDT since their partnership began.
In a EXCLUSIVE interview with Goal, Safiq cast a glance back at a successful 3.5 years with the Southern Tigers and revealed that there would be more to come from the reigning Super League champions.
JDT only finished third in their first league campaign as a club back in 2013. Safiq and co had to watch from afar as not only did they finished three points away from the top spot - they had to suffered the ignominy of seeing Lions XII lifting the coveted league title.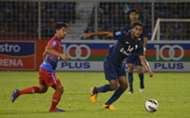 Since then, Safiq has led his team to three consecutive league titles - spurred on by the burning desire to not suffer like they did in 2013. The team has changed from that very first squad that Safiq joined in Johor Bahru. The players that fought alongside Safiq has since moved on to other teams - the likes of Al-Hafiz Hamzah, Kamarul Afiq and Nurul Azwan Roya.
The change not only happens on the pitch but off the pitch as well. From Pablo Aimar to Luciano Figueroa, from Norshahrul Idlan Talaha to Safee - many top players have graced the football club. From Fandi Ahmad to Mario Gomez to the now Benjamin Mora - there has been a fair few head coaches who have been given their turns by TMJ to be at the helm of his beloved team.
But in between those changes, two things have remained constant - Safiq's place in the team as well as the success achieved by the club. The evolution that the club took on its journey from the starting point is very much something that the 30-year-old midfielder is proud of.
"For me, from 2013 until now - there has been a lot of changes at JDT. Whether with our philosophy or our environment, a lot has changed. I'm very proud to be part of JDT until now. I hope I can continue to help JDT and give my contribution to the team in years to come," said Safiq.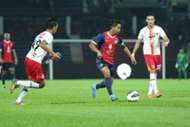 The first Super League title in 2014 was quickly followed by another in 2015 but that wasn't the only trophy that JDT picked up that year. They also went on to be the first Malaysian team to win the AFC Cup when they defeated FC Istiklol in the final and Safiq went on to be honoured with the Most Valuable Player (MVP) award of the tournament.
An incredible footballing feat that reverberated across the entire region, making people sit up and take notice of this tiny club from Malaysia. That triumph put JDT on the map, if not the world's footballing map, then at the very least - Asia's footballing map. 
"We can see that in 2013, JDT made a change and we hit a great height in 2015 with an Asian triumph. To do that in 2 years is a great achievement not only for the club but also for Malaysian football. It's not impossible that we can continue to create more historic moments for the club as well as Malaysian football."
As with anything in life and football in particular, there was an element of luck that came with the AFC Cup win. Kuwait's Al-Qadsia had already defeated JDT 3-1 in the first leg of the semi-final but they would later be kicked out from the tournament, giving JDT a free pass to the final. 
Yes, they benefited from Asian Football Confederations' (AFC) decision but JDT still deserved the praise shown their way for being able to knock out Hong Kong's South China in the quarterfinals and holding their own against Tajikistan's Istiklol.
In 2010, a K. Rajagopal led Malaysian team that included Safiq in their ranks battled against all odds to win the AFF Suzuki Cup. But in the minds of Safiq, there was only one triumph that takes a special place in his heart.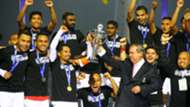 "In my career until this point - there's no doubt that it was my best achievement. I never thought that I can hit such heights at a club level. I'm very proud to be part of the JDT team at that time and I was happy to create history for JDT. But that is not the full stop. We want more and we are hungry for more success and to continue to ink our names in the history books."
In football, the quickest way down is to be contented. Lionel Messi and Cristiano Ronaldo have both won so many honours with their club and country, whether as a team or individually - yet nothing shows that the two players aren't continually hungry for more success. The same can also be said of Safiq. 
The Kuala Selangor born quipped that his JDT side, the project of TMJ, is only halfway towards completion. There's plenty more still to be done at the football, at just four years of age, going on five - the club still have many more phases to go through.
"It's more than 50% into the project. Me as player, I'm not satisfied yet with what I've achieved so far with JDT. I want more successes and I believe that the JDT team also want to achieve more successes in the future," exclaimed a confident Safiq.
At this point in time, JDT are the closest team Malaysia have to being good enough to play Asian Champions League (ACL). It is undeniably the most premier cup competition for any Asian club to participate. Not quite there in 2015, 2016 as well as 2017 - one can feel that it may well be 100% for the mercurial Safiq Rahim when the club enter the ACL.
Watch the full Part I interview with Safiq Rahim below (language in BM)