South Africa v Paraguay
SABC releases statement on failure to broadcast Bafana Bafana matches
South Africa Chief Editor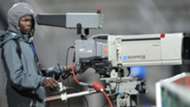 The South African Broadcasting Cooporation (SABC) has issued an official statement expressing sadness at its inability to broadcast national team's games on its platforms.
The public broadcaster hasn't been able to strike a deal between itself and the South African Football Association (Safa) following the expiry of the contract in April this year. 
Bafana have already played two matches on home soil against both Libya and Nigeria, and the SABC failed on both ocassions to broadcast the matches. 
On Tuesday, the South African men's national team take on Paraguay in the Nelson Mandela Challenge. 
"It is regrettable that the public broadcaster is unable to broadcast the national team's games at this stage, due to the SABC and the South African Football Association (Safa) not being able to reach a new agreement," said the SABC in a statement.
"The SABC remains committed to engaging Safa on fair terms in dealing with this impasse, as the SABC takes its role of broadcasting Bafana Bafana games to the South African public seriously," read the statement. 
All national team matches have been shown live on SuperSport TV over the past few months, including those involving women's national teams. 
According to Safa, the SABC hasn't been able to meet any of their financial demands since the expiry of the previous contract.