Transfers
Ross McCormack close to joining Usain Bolt at the Mariners - report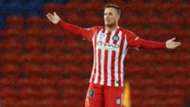 After impressing on loan with Melbourne City last season, Ross McCormack might be about to head back to Australia with Central Coast Mariners linked to a loan move for the Aston Villa man.
According to the Daily Mail UK, the Mariners are close to sealing a loan deal for the 32-year-old this week after he failed to secure a permanent transfer away from the club.
McCormack scored 14 goals across just 17 appearances for City during his A-League stint last season and would be a crucial addition for a goal-shy Central Coast side.
The Mariners have had a busy off-season to date under new coach Mike Mulvey with eight-time Olympic gold medalist Usain Bolt currently trialling with the club. 
Villa purchased McCormack from Fulham back in 2016 but he has failed to establish himself there with subsequent loans to Nottingham Forest and City. 
The Mariners scored the fewest goals of any A-League side last season after finding the back of the net just 28 times as they ended a poor campaign with the wooden spoon. 
They've looked to rectify that over the off-season bringing back former striker Matt Simon while also adding forwards Corey Gameiro and Jordan Murray.
Though already bringing in 13 players, Mulvey has room for two more players in his squad and still has two visas spots up his sleeve.