Videos
Rose: Sturridge & Defoe's weird pre-match superstitions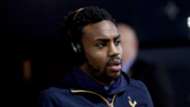 Danny Rose has spilled the beans on some of his current and former team-mates' strange superstitions before a match.
The Spurs full-back lifted the lid on Kyle Walker's penchant for kissing his bracelet, Etienne Capoue's need to say a prayer and Dele Alli crossing himself three times for good luck.
Rose admitted that he eats spaghetti bolognaise the night before every match, too, but it must be said that Jermain Defoe and Daniel Sturridge's odd habits really take the cake – see Rose reveal all in the video above!
Footage courtesy of Kicca.