PSL
Ronwen Williams: I've never thought of leaving SuperSport United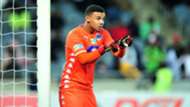 Ronwen Williams had to take on a huge responsibility as a 21-year-old when he unexpectedly had a child with his girlfriend.
The Shot-Stopper had to grow up quickly, be a man and provide for his son.
The SuperSport United goalkeeper felt like he had no choice but to start a family as his partner moved up to Gauteng with him trying to make a name for himself in the South African top flight.
In an interview with New Frame at SuperSport's training base, Williams revealed how having a baby at such a young age changed his life.
"I had to grow up quickly. A lot of people at that stage want to go clubbing and buy nice things. But my mentality has always been to sort out my family first," Williams told the publication.
The 26-year-old arrived at SuperSport as a 12-year-old and he is currently the team's first choice and the longest serving player at Matsatsantsa.
"My partner moved up here when I was 20. I've been on lock-down ever since," said Williams.
"You never read bad things about me [in the tabloids] because I stay indoors and I am family-orientated," he added.
Williams is arguably one of the best Shot-Stoppers in South Africa when it comes to penalty shootouts at the moment and he will be looking to make good use of his Bafana Bafana call up this time around when they take on Libya this weekend.
The Port Elizabeth-born star said he is proud of the man he has become and he acknowledges that he is not perfect.
"Obviously I have my flaws and my weaknesses but I am happy and proud of the man I have become," he said.
In the past, Williams was linked with a move away from the Pretoria-based side but in 2017 he penned a five-year deal showing loyalty to the team that took in him as a small boy from PE and made him part of the SuperSport family.
"I've never thought of leaving because the club has been good to me," he revealed. 
"I have received a lot of offers in the past but I turned them down because of the loyalty I have for SuperSport and the love they have shown me," Williams said.
"SuperSport is a family-orientated team according to Williams and there are many people who have been here at the club all their lives," he explained.
 "Hopefully when I am done with football, I can be a part of the staff as well," he concluded.