Cristiano Ronaldo
Ronaldo is still priceless for Real Madrid and Portugal, says Salgado
Michel Salgado says Cristiano Ronaldo is unsellable for Real Madrid, while he worries about the threat that the Portuguese superstar will pose to Spain in a crunch World Cup clash on Friday.
The 33-year-old won the Champions League for a fifth time as Madrid overcame Liverpool 3-1 in May, but it was Gareth Bale who proved to be the match winner on that occasion as he scored twice off the bench.
Immediately after the match, Ronaldo shocked the world by casting his future into doubt as he referred to his time with the Blancos in the past tense. Salgado, though, who played for 10 years at the Santiago Bernabeu, believes that Ronaldo is still the best player on Real's books and will be kept on this summer.
"After what I have seen in the last season, why would they move Ronaldo out of Real Madrid? He is still there in the key moments," Salgado told Goal during the Betfair Road to Russia preview. "We are talking about scoring always in quarter-finals, semi-finals, and knockout stages. When you need him he is there.
"To be honest, he is performing fantastically, he knows to save his energy for the big moments. He knows his body, he knows his head. He is a real professional guy. He is working hard to be the best. 
"Cristiano is a guy who has to work hard every day to be in there and he is doing it. He is an example in terms of professionalism and, for me, obviously he has to stay in Real Madrid for as long as he wants. He is so much for us.
"I wanted to see Real Madrid without him for one big game in the Champions League because we never miss him. Obviously it would be really, really different. When he is in there, the opposition defenders are shaking, they know he is in there. It is stupid to say he is too old or whatever.
"Obviously he is getting mature, he is 33 years old. The physicality is dropping of course. The speed, the pace but he has got something that I don't think right now that any other player has got. This is the smell to score goals. He has got something special when it comes to the goal.
"He always puts the ball, at the right time, at the right moment into the goal. That's something that is priceless right now in football."
Salgado won four league titles and two Champions League trophies during his time with Real Madrid and is considered to be a club legend. He also played 53 times for Spain, including in the 2006 World Cup, but missed out in 2002 due to injury.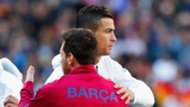 The 42-year-old says this World Cup represents Ronaldo's last chance to win the highest honour in international football, though he thinks the Portugal star's great rival may have a shot at playing in 2022. 
"It is going to be difficult for Cristiano Ronaldo to get there in the next World Cup," Salgado said. "Maybe [Lionel] Messi has one more, probably yes. It is one of the last chances they have got to win the World Cup. That's what the World Cup is all about.
"Messi and Ronaldo, they know it. They know they have got their last chance to try to win it and that's why it is going to be an amazing World Cup."
Spain's opening game against Portugal will see six Spanish Real Madrid stars possibly facing their club team-mate. Salgado thinks both sides will be desperate not to lose in their opening match and that fear could therefore creep into each side's play.
"To be honest [Ronaldo] is unlucky that we have got our first game against Portugal," Salgado added. "There is a rivalry because we are neighbours. There has always been a big rivalry in there and Cristiano Ronaldo is in there. He is our main player in Real Madrid. He is our soul so, for us, it is difficult to see us playing against Cristiano Ronaldo.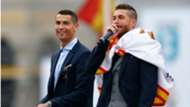 "At the same time because it is a tricky group, whoever loses this game will have a lot of pressure for the second and third game. I see this game with more fear to lose it than action and belief and passion to win it. It is the first game, we know it is difficult and the first game is always important in the World Cup for the way you are going to progress.
"Let's see what happens but I am going to tell you, if you lose the first game in this group, it is not going to be easy because you have got Iran and Morocco in the second and third games. I know both teams and to be honest, they are going to make our lives complicated."