Mesut Özil
Ronaldo and Modric make Ozil's world XI alongside only two Arsenal team-mates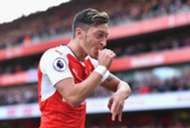 Mesut Ozil is fortunate enough to have played alongside some top talents for club and country, but only two of his Arsenal team-mates have been deemed good enough to make his world XI.
The Germany international is currently taking in a fourth season at Emirates Stadium, having joined in a club-record deal from Real Madrid in the summer of 2013.
Vieira: Wenger let down by players
Of those he has worked with in England, he considers Alexis Sanchez and Hector Bellerin to be the pick of the bunch.
They have been included in the 28-year-old's dream team made up of past and present colleagues.
Ozil does include himself in the side, but then leans heavily on international team-mates and those he enjoyed considerable success with at Santiago Bernabeu to fill the remaining spots.
The best PL imports from La Liga
Cristiano Ronaldo – a man he considers to be a "machine" – makes the grade, along with current Real stars Luka Modric, Marcelo, Karim Benzema and Sergio Ramos.
Manchester City's Ilkay Gundogan forms part of a midfield trio in a 4-3-3 system, while Bayern Munich duo Manuel Neuer and Jerome Boateng – who Ozil won the 2014 World Cup alongside – complete the team.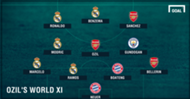 Explaining his selections on the official Pro Evolution Soccer YouTube channel, Ozil said: "I pick Neuer because he is the best in the world.
"Bellerin is the fastest player in the world, I think. I have never seen anything like Boateng, and Ramos is a boss player.
Fans should target Kroenke, not Wenger
"Marcelo, for a defender, has a great technique and I really liked playing with him.
"I enjoyed playing Modric as well, he has two good feet and a great eye to see team-mates. Gundogan is a smart player. Of course I had to play me.
"On the right, Sanchez because he works a lot and really wants to be successful. Benzema is a complete player and he's very clever in front of goal. Ronaldo is a machine, he scores a lot of goals every season."