PSL
Roger De Sa: I will save Platinum Stars from relegation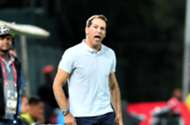 Platinum Stars coach Roger De Sa believes losses to fellow strugglers Ajax Cape Town is worse than the weekend's drubbing by champions-elect Mamelodi Sundowns.
"For me the loss to Ajax away from home is worse than losing to Sundowns. That is a team we could have battled with because we were 1-0 with 20 minutes to go. That was hard to swallow, and with other games (opposition higher up the table) you have to be a realist. I think it has been a relegation scrap since I arrived here. Three games with no points and bottom of the log," De Sa told IOL.
The former Orlando Pirates coach realizes that he has his work cut out for him to save the club from dropping down the second tier.
Currently, they are placed rock bottom from 18 games, and De Sa aims to accumulate 15 points in the second round after amassing the other 15 at the half way stage.
"We knew and targeted 15 points at the half way mark, which we managed to achieve. And now we are targeting another 15 in the second round. That's what it is and you've got to be honest about it," he said.
"We don't have a budget to go and buy a Jeremy Brockie for a couple of million. We have to work with what we've got and pick up players that are looking for a job," De Sa continued.
After securing the services of Zambian striker Brian Mwila from Green Buffaloes, what many termed a massive coup, the burly forward has yet to return from the Christmas recess.
It's believed he is eyeing a move to Europe, and De Sa jokingly hopes he signs for Manchester City or Chelsea who must dig into their pockets to bring him on board.
"I wish I knew where Brian is. He just disappeared and I haven't seen him again. He went home for Christmas and it's a long Christmas in Zambia," he added.
"As far as we have heard he is looking for a club in Europe. We hope it's Manchester City or Chelsea because they will have to buy him from us," he concluded.