Australia
Robbie Slater blasts Ange Postecoglou over comments on Australia's World Cup squad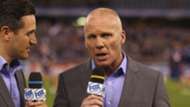 Commentator Robbie Slater has criticised former Socceroos coach Ange Postecoglou for his recent comments on Australia's squad selection for the World Cup.
With current boss Bert Van Marwijk chopping the 26-man preliminary list of players by three for Russia on June 3, Postecoglou urged the Dutchman to select Tim Cahill and Daniel Arzani as part of the final group.
But Slater believes Postecoglou's opinion on the Socceroos isn't warranted because of the way he departed the coaching post in November last year.
"When you've walked out on the team, I don't think his advice is warranted to be honest," Slater told Big Sports Breakfast.
"It's not that I don't like Ange. Ange did a fantastic job for us for quite awhile and then changed… in the way the team played and the shape of the team and that was pretty much it really."
"I just don't think so close to the World Cup opening Bert van Marwijk needs the coach that walked away from the team to start giving him advice
"It's pretty obvious advice to be fair to him.
"Of course [Cahill and Arzani] got to go, we've got no-one else."
While Cahill, 38, is the oldest player in the squad with 105 caps and 50 goals, 19-year-old Arzani is likely to make his green and gold debut against Czech Republic in Austria on June 1 - as he attempts to impress Van Marwijk before the squad deadline.
The Melbourne City attacker has exuded confidence since arriving at the Socceroos pre-World Cup camp in Turkey, terrorising Australian defenders with his dribbling and admitting he would like to nutmeg Paul Pogba in Russia.
Following the Czech Republic friendly, Australia take on Hungary in Budapest on June 9 before embarking on a World Cup campaign against group C opponents France, Denmark and Peru.