South Africa
Reports: Safa set to bid for 2023 Fifa Women's World Cup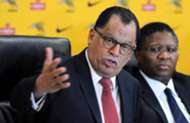 After qualifying for their first Fifa Women's World Cup in 25 years, Banyana Banyana could soon be the first African nation to host the global tournament in 2023.
This after confirmation by the South African Football Association (Safa) that it will table a bid to stage the 2023 showpiece.
The developments follow the national team's brilliant run in Ghana during the recent 2018 Africa Women's Cup of Nations tournament where they reached the finals.
Although Banyana would not beat eventual champions Nigeria in the final, they managed to qualify for the Women's global tournament which is set to be staged in France next year.
Under the guidance of coach Desiree Ellis, the South African team booked their spot in the World Cup finals for the first time in 25 years, and according to Safa president, Danny Jordaan, they now plan to table their case with Fifa in order to further expand the women's game.
Weekend media reports suggest that Jordaan repeatedly said during the association's annual general meeting in Johannesburg that they will bid to host the next global competition.
On the other hand, the Safa boss has also dropped a hint that hosting the 2010 Fifa World Cup could give them a fair opportunity to organise the Women's World Cup as well as hosting the upcoming 2019 African Cup of Nations tournament.
Caf initially handed Cameroon the hosting rights, but a decision taken on Friday to strip them off their hosting rights. 
This has subsequently opened doors for other African countries to step in and bid for the 24-team tournament which is scheduled to get underway in June next year.