Super League
Reid blames the players' footwear for their 6-1 defeat at Pahang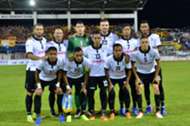 ---
BY         NIK AFIQ        Follow on Twitter
---
Darren Reid, assistant head coach of Pulau Pinang, surprisingly blamed the team's footwear after their 6-1 defeat to Pahang.
Pulau Pinang continued their winless run in the MSL after a poor display saw them conceded six goals against the Elephants.
According to Reid, he stated: "In the first half, Nigel got us back in the game and gave us a lifeline at 2-1."
"However, we got punished for our individual errors. But look, I can't defend my players if they don't have the right footwear to play in this type of weather. There are also incidents happened there and being seen by everyone, and it could've change the game."
With the game against Kedah coming up next, Reid admitted that the team need to find solutions quickly if they need to change their fortunes around.
"We have to go back to training ground and plan for Kedah. The game here is done and there is not a lot that we can do."
"We will try to find a solution, there is something not clicking with the team here and we got to find it quickly," added Reid.
Captain of the team, Reinaldo Lobo also believed that it is still not too late for the team to turn their season around.
"We can change this situation, we know it is a bad moment for us but I believe we can change it," said Lobo.
Pulau Pinang remain at the bottom of the table in the league after five defeats in a row, scoring only one goal and conceded 11 goals thus far.