African All Stars
'Real Madrid outclassed and annihilated at Camp Nou' - Nigerians react to Barcelona's El Classico win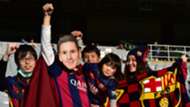 Luis Suarez's hat-trick with goals from Philippe Coutinho and Arturo Vidal helped Barcelona hammer Real Madrid 5-1 in Sunday's Spanish LaLiga game.
Marcelo scored a consolation goal for Julen Lopetegui's side in the second half but it wasn't enough as Real Madrid dropped to the ninth position in LaLiga.
And Nigerians, in their usual style, took to Twitter to express their thoughts with memes regarding Los Blancos dip in form.
Losing can be frustrating but it shows you the grey areas that need correction. We will surely bounce back #HalaMadrid #LaLigaSantander #ELCLÁSICO ! pic.twitter.com/VZ1ZPBb55y

— Mutiu Adepoju (@MutiuAdepoju8) October 28, 2018
— PRINC£ 👑 (@prynzebonsu) October 28, 2018
Looks like Barcelona just signed Julen Lopetegui's sack letter.
Real Madrid outclassed, outplayed, humiliated and annihilated at the Nou camp.

— Olaleye Dada (@olaleyedada) October 28, 2018
Real Madrid: We can do without Ronaldo #ElClasico : Barcelona 5 Madrid 1
Real Madrid: pic.twitter.com/ajSaZcy8m8

— Oscar-Romero (@the_oscaromero) October 28, 2018
Real Madrid's Defence in Todays Match #ElClasico pic.twitter.com/pZs3LLYcH1

— Kvng Jay! (@DrJohnAfam) October 28, 2018
I don't know much about football but is Real Madrid the new Arsenal? #ElClasico pic.twitter.com/Yh6wyiaKh6

— Thick Bowl of Chocolate 😍🍯🍫 (@Adenike_nng) October 28, 2018
⚪️⚫️⚪️⚫️⚪️⚫️⚪️⚫️⚪️
Wallah I still stand for dem nd I love dem now more than before one love ❤️ Madrid pic.twitter.com/wJyZfdXQnu

— sharif 🦋🦄🚨 (@Muhammadzage) October 28, 2018
Incase you missed the Barca vs Real Madrid match, here is the highlight. Enjoy. pic.twitter.com/nYuQkPl41U

— OTUNBA (@ChiefTolu) October 28, 2018
Incase you missed the #ElClasico today between Madrid and Barcelona, here are the highlights. pic.twitter.com/u7iGcPmGX6

— Эмека (@Emmylyon4) October 28, 2018
Real Madrid with #ronaldo vs Real Madrid without #ronaldo #ElClasico pic.twitter.com/lqTmT4UbP5

— Julius Zitha (@julius_zitha) October 28, 2018
Real Madrid without Cristiano Ronaldo is completly weak. #ElClasico pic.twitter.com/hzif8Wlcgp

— Royalty👑 (@Sbo_Motha) October 28, 2018
How Barcelona sampled Real Madrid #ElClasico pic.twitter.com/eJEZFEROi5

— Busy Buddies 🇳🇬™ (@thebusybuddies) October 28, 2018
Real Madrid fans waiting for the Loputegui news. #ElClasico pic.twitter.com/fKDGTIIA1l

— Ivan Dougan (@ivanlotti) October 28, 2018
How Lopetegui is following Real Madrid's team bus to Madrid #ElClasico pic.twitter.com/okvyqJCX7j

— Soccer Nation (@SoccerNationNg) October 28, 2018
Ladies and gentlemen, Barca has dealt with madrid MessiLessly. pic.twitter.com/l89JW7ocaU

— Your NEXTcellency🛩 (@Zazzau_Zaddy) October 28, 2018