FA Cup
'Ramsey clearly offside' - Chelsea and fans livid that Alexis Sanchez's goal stands in FA Cup final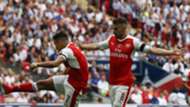 Arsenal took a controversial 1-0 lead within five minutes in the FA Cup final on Saturday and Twitter was ablaze with anger at the referee's decision.
Alexis Sanchez finished low past Thibaut Courtois to give the Gunners the perfect start, but he arguably could've been whistled for handball, or Aaron Ramsey for offside due to his position behind the defenders.
WATCH: Roma pay tribute to Totti
The Chilean appeared to block a Chelsea clearance with his arm before Ramsey, in an offside position, briefly made a play for the ball before backing off and allowing Sanchez to take the ball from an onside position and score. 
A controversial moment here as Sanchez scored but the goal initially looked to have been disallowed. #FACupFinal

— Chelsea FC (@ChelseaFC) May 27, 2017
Ramsey was clearly offside as Sanchez burst through but was deemed not to be interfering with play. #FACupFinal

— Chelsea FC (@ChelseaFC) May 27, 2017
Chelsea robbed, I'd say. Surely that's interfering with the play. Ball bounced right near Ramsey. #FACupFinal #CFC

— Nizaar Kinsella (@NizaarKinsella) May 27, 2017
Well that's bullshit. Handball Sanchez, then Ramsey interferes from an offside position. And yet, Arsenal given a goal. #CFC 0-1 #FACupFinal

— Matthew Fratiani (@MattFratt) May 27, 2017
Don't understand how Ramsey's not active there? He made a move towards the ball #FACupFinal

— James nellist (@james_nellist) May 27, 2017
However, not everyone was enraged with referee Anthony Taylor's decision and Arsenal were among the happy tweeters after the belated decision to award the goal at Wembley.
We had to wait for Anthony Taylor to confirm - but we've taken an early lead! @Alexis_Sanchez runs through to finish #AFCvCFC 1-0 (5) pic.twitter.com/4YulWWnYqI

— Arsenal FC (@Arsenal) May 27, 2017
Good refereeing there! #FACupFinal

— Ry. (@TheFallenGiants) May 27, 2017
1-0. Thank God for @Alexis_Sanchez . #FACupfinal

— Piers Morgan (@piersmorgan) May 27, 2017
Right decision by the ref #FACupFinal @Arsenal @Simon_Dixon94 @

— Marie Pye (@mariepye) May 27, 2017
Chelsea's start to the #FACupFinal summed up... #FACup pic.twitter.com/BX28pTIVpS

— MrMaskTV (@MrMaskTV) May 27, 2017
Well done referee game on!!!! #FACupFinal

— Matt Cook (@Cookmtt1976) May 27, 2017
Superb officiating on the biggest stage. Calm and composed under such pressure #FACupFinal

— Michael Nairn (@mickynairn) May 27, 2017
May 27, 2017