Super League
Possible position movements in Malaysia Super League matchday eight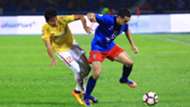 ---
BY        ZULHILMI ZAINAL       Follow on Twitter
---
Round eight of the 2018 Malaysia Super League will be played out over Tuesday and Wednesday, just days after the previous matchday took place. And just like the previous round, the top spot will not change hands regardless of the coming matchday's results.
Leaders Johor Darul Ta'zim (JDT) have a four-point gap from second place Pahang, which means they will remain at the top even if they lose and the Elephants win. Terengganu host Pahang on Tuesday.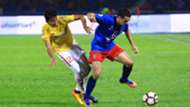 JDT vs Selangor from last season. Photo from Johor Southern Tigers Facebook
Three sides have a chance to be in the second place; Pahang who are currently second-placed, third-placed Perak and fourth-placed Terengganu FC. 
The team with the smallest posssible position movement is bottom-placed Negeri Sembilan, who will face Kedah away on Tuesday. The Deers can only go as high as the tenth place if everything goes their way in this round; for a range of three spots.
Aside from the bottom two teams, only two other teams risk ending up in the relegation zone after playing their round eight matches; ninth PKNP FC who host eleventh Kelantan, and tenth-placed Kuala Lumpur who host fifth-placed PKNS FC on Wednesday.