Selangor II
PKNS willing to play second fiddle to Selangor once again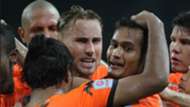 ---
BY        ZULHILMI ZAINAL       Follow on Twitter
---
Super League side PKNS FC are willing to do whatever is required of them in order to help develop football in the state of Selangor, including playing second fiddle again.
When met by Goal after the Sultan of Selangor's Cup promotional event on Wednesday, team manager Mahfizul Abdul Rashid reminded that the club had always played an auxiliary role to the state's more accomplished team; Selangor FA (FAS), and that any decision regarding the club's future will be made by the chairman of the state company that owns the club, who is also the Selangor state Menteri Besar (Chief Minister), Amirudin Shari.
"We have joined a discussion on the future of football in Selangor with the Menteri Besar (MB), and recently we also joined the Selangor FA workshop last weekend. We are prepared to cooperate with FAS and the state government.
Perbincangan mengenai hala tuju dan masa depan bola sepak negeri Selangor Darul Ehsan bersama wakil PKNS FC, @FASelangorMy dan Persatuan Bolasepak Melayu Selangor. Komitmen saya agar kegemilangan Merah Kuning dapat dikembalikan semula, Insya-Allah. pic.twitter.com/AGghp7bRZP

— Amirudin Shari (@AmirudinShari) July 25, 2018
The meeting between Amirudin, PKNS, FAS and the Selangor Malays FA in late July
"Previously we had played the role of a feeder club to FAS, for example, many of our players had joined Selangor. I don't see any problem for us to assume that role once again, if that is the structure that will be set-up. For now we have been asked to study our future role, but any decision will come from the MB himself, which we're waiting for ourselves," he explained.
When asked whether the club have any plan to step out of Selangor's shadow, Mahfizul responded that they have the desire to be independent, but are still limited to the objectives set by the state.
"We do want to strike out on our own, so to speak," he remarked. "After all we've run the club as professionally and sustainably as possible while this season we've been performing well, so of course we dream of being independent, of attracting fans and developing our own history.
"But we are still limited by the objectives set by the state government and we can stray far from them. Maybe someday that can happen, if we show consistent improvement. Anything can happen in football."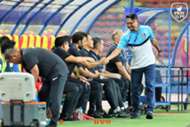 Mahfizul Abdul Rashid (right)
But before that can happen, certain changes need to be made to the laws regarding sports governance in the country, added Mahfizul. He drew attention to one particular stipulation regarding sponsorship of sports clubs.
"In my opinion, a minor amendment to the Sports Development Act will be beneficial to sports clubs in the country, not just football clubs, in terms of attracting sponsors.
"At the moment, seven per cent of a corporation's annual profit can be exempted from taxation (if it sponsors sporting initiatives), which I think is a little too low to entice the private sector into sponsoring sports clubs. If that percentage were to be raised to ten, companies would be more willing to get involved," he explained.
Prior to the end of the 2016 season, PKNS had been an affiliate club of Selangor, but an acrimonious split between FAS and the state government forced the Red Ants to change affiliations to the Malays Football Association, in order to avoid reprisal by the association. 
The club ultimately performed slightly better than their former 'big brothers' in the following two seasons, but changes in the Malaysian and Selangor political scenes, as well as the resignation of former FAS president Datuk Seri Subahan Kamal earlier this year restored the FAS-state relationship, and PKNS may now need to share the state's attention once again.
This time however, it is unlikely that they will get the lion's share of the resources, like they have in this season and the last.
Also follow Goal Malaysia's new Instagram account!
A post shared by Goal Malaysia (@goal_malaysia) on Aug 8, 2018 at 7:42pm PDT