Africa Cup of Nations Qualification
Patrick Matasi picks 2018 greatest moment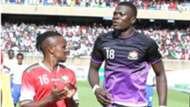 In about 72 hours or so, the world will be ushering 2019 putting all the good and bad memories of 2018 in the dustbin of history.
Patrick Matasi is one man who has achieved much in 2018. He started the year with Posta Rangers before moving to Tusker and later on St Georges.
However, on his interview with Goal, Matasi did not mention about these as his the best moment of the year.
"I have had a great year for sure, but there is one special thing that I am really happy about. Taking Kenya to the Afcon for the first time in 15 years was amazing. It is something we have been yarning for and being in that team was just amazing.
"Also the clean sheets I managed to keep was also amazing and special to me as an individual, I believe 2019 will be better."
The shot-stopper hopes Kenya will perform even better in the Afcon scheduled for 2019.