Pahang
Pahang may have to settle Kuantan players' unpaid wages as affiliate FA, says PFAM CEO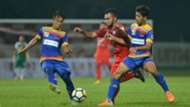 ---
BY        ZULHILMI ZAINAL       Follow on Twitter
---
Players who fail to receive their unpaid wages can still take action even though their former clubs have folded, according to Professional Footballers Association of Malaysia (PFAM) chief executive officer Izham Ismail.
When met by Goal after the the PFAM-Asiana Player of the Month award ceremony for April in Kuala Lumpur on Saturday, which was won by Kedah's Sandro Mendonca, Izham explained several recourses that former Kuantan FA players can take in demanding their unpaid wages.
Last season, the Malaysia Premier League club reportedly failed to pay their players' wages for 11 months, and in April this year was sacked from the second tier halfway through the 2018 season. The Malaysian FA (FAM) Status Committee has repeatedly instructed the Seagulls to pay up, to which the club responded that they simply do not have the funds.
According to Izham, if clubs fail to settle their players and staff's unpaid wages, in Malaysia the onus will fall on the state football association (FA) that the clubs are affiliated with.
The Malaysian football hierarchy is peculiar in that almost all FA's that are FAM affiliates run a team that play in the top-three tiers, while also handling football development, refereeing and coaching training as well as affiliate club matters.
"It's the FA who will then have to settle the unpaid wages, that means [in Kuantan's case] it's the Pahang FA. There are precedents on this; the Kuala Lumpur FA had had to take over Kuala Lumpur SPA's arrears, while the other case involved Kedah United, whereby the Kedah FA had to be responsible for the club's unpaid wages. It is PFAM's hope that although Kuantan have reportedly folded, the Pahang FA will take responsibility.
"This is admittedly different from in other countries as their club system is stronger. Overseas cases such as this would fall under certain legal acts and these clubs would be declared insolvent. If anyone then wants to revive any of these clubs, they will first have to settle the unpaid wages," explained Izham.
And the law practitioner added that players who are owed money by FAs can take action by suing the association officials.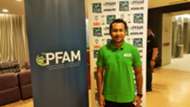 Izham Ismail. Photo by Zulhilmi Zainal
"Associations that are registered under the Malaysian sports commission are deemed as independent, so a player cannot sue the association.
"But players can sue the office bearers, and that is why we have never come across law suits against associations. The suits are usually against the secretary-general or the president," he pointed out.