Mexico
Frustrated Osorio feeling the effects of FIFA suspension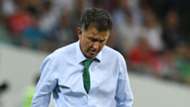 SAN ANTONIO — Mexico coach Juan Carlos Osorio will watch from above the Alamodome pitch here Sunday when his team plays its final group game of the Gold Cup against Curacao.
It's the third game of a six-match suspension Osorio received for his actions toward the fourth official during the third-place game of the Confederation Cup. And the tactician, who loves making adjustments during matches, says the worst part has been the fact he can't communicate with players during games.
Gold Cup 2017: Knockout schedule, TV guide
"As far as how I feel during the games, needless to say it's a very difficult situation," Osorio said Saturday in a news conference. "I can't deny the fact that I enjoy very much being by the sideline, next to the players, and the one thing specifically that is very difficult to deal with is the fact that when something happens on the field and I try to make aware of that situation it takes too long and it's gone, it's past and it's basically two or three new plays have happened after that.
"It's very difficult to correct the points that are relevant to the specific situation. So I would say that if there is one word to describe that, it's frustration."
The Mexico federation announced Friday it will not appeal the suspension, which will see Osorio miss the entire Gold Cup. The coach said he gave the federation directors his opinion on whether or not to appeal and respects their decision. He is not allowed on the touchline during the ban but is able to conduct training sessions and is enjoying working with the alternative side he has called for this tournament.
"With the group, I'm very happy, very optimistic," the coach said. "One of the things I enjoy most overall is working with this new generation of players, players who have been with us in previous squads and the new ones. It's extrodinary to be with them, to work with them on the training field about our styles of play, our principles, their role, learning about them and sharing our knowledge.
"I continue thinking we have a very good group of talented young players who are the future of Mexican soccer."